Après le bal, 1897, 1m12s
Star Film Catalogue No. 128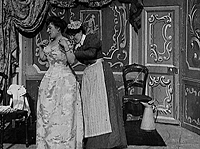 A woman enters her boudoir, and her maid helps her to undress, peeling off her outer garments until she is clad in a shift and stockings. She sits down, and the maid helps remove the latter. Almost naked aside from skimpy underwear, the woman gets into a tub and the maid pours the contents of a large jug over her, drying her off with a towel afterwards. They leave the room together. .
This slice of (very tame) erotica is very typical of a sub-genre that had already begun to appear in films on both sides of the Channel the previous year: Méliès' film is a remake of Eugène Pirou's Bedtime for the Bride (Le Coucher de la marié), while Esmé Collings' British-made A Victorian Lady in Her Boudoir proceeds along very similar lines, though stops well short of Méliès' film when it comes to clothes-shedding. Both Collings' and Méliès' films (and doubtless Pirou's too) were marketed as being suitable for private screenings to broad-minded bachelors.
Essentially, After the Ball is a strip-tease, with an upper-class woman being gradually helped out of her voluminous clothes by a maid, from the cumbersome outer garments down to her individual stockings. The woman is played by Jeanne d'Alcy (1865-1956), who previously played the title role in The Vanishing Lady (Escamotage d'une dame chez Robert-Houdin, 1896) and would go on to make several appearances in subsequent Méliès films, including the seminal A Trip to the Moon (Le Voyage dans la lune, 1902) before marrying him in 1926.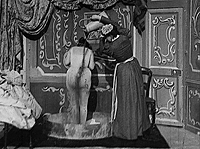 When the woman gets into the bath, it's not clear whether Méliès intended the effect of complete rear nudity - some form of underwear is clearly visible. It's also unclear whether the dark powder that the maid pours over her was intended to represent water (it's easy to see why the real thing might have been best avoided, given the likely side-effects in terms of cloth clinging alluringly to flesh) or was part of some arcane and forgotten powdering ritual, though it's unlikely that the film's audience at the time would have been pondering the technical details given the surprisingly extensive amount of female flesh on display. However, After the Ball is not, as has been widely claimed, the first "adult" film - Pirou's work predated Méliès' by several months and is reputedly rather more graphic, though less than a third of Bedtime for the Bride is believed to survive.
The print on Flicker Alley's DVD is mostly in excellent condition aside from some minor jitter on occasion. Neal Kurz's lyrical piano accompaniment is tasteful and unobtrusive, establishing the film firmly on the 'art' side of the art-vs-erotica divide.
Links
Posted on 16th May 2008
Under: Erotica, 1897 | No Comments »