Barbe-bleu, 1901, 10m19s
Star Film Catalogue Nos. 361-370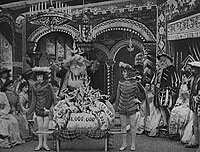 Bluebeard enters the hall of his castle and walks between two lines of women - but every time he attempts to make conversation with one of them, she turns her face away. He summons servants, who bring forth vast wealth as a bribe. One of the women is reluctantly persuaded to go with him, her father dragging her hand so that it can be clasped by Bluebeard. She snatches it away and bursts into tears. Two notaries are summoned, and the couple are married. One asks for payment, and Bluebeard angrily kicks his sheaf of papers into the air. Bluebeard brings his new wife to the kitchen to show the lavish meals being prepared. Vast arrangements of food and gigantic bottles are carried through by servants. Horseplay between two of them leads to a third being knocked into a cauldron by a flying cabbage. The meal is served in the gigantic dining room, with many guests in attendance. Bluebeard introduces his new wife, whose wedding train is held up by several servants. Bluebeard proposes a toast. When the couple is alone, Bluebeard gives his wife a bunch of keys, and says that she has the freedom of his castle, with the exception of one room. He then leaves for six weeks, followed by numerous servants carrying his luggage. His wife looks at the forbidden door, clearly tempted. A satanic imp leaps out of the pages of a large book and compels her to open the door before returning from whence he came. Inside the room, she finds the hanged corpses of Bluebeard's previous wives, and drops the key in a pool of their blood. While she tries to wash it off, the imp reappears, and the incriminating key grows to gigantic size. A fairy appears and shrinks it. Bluebeard's eighth wife leaves, and has a disturbing dream (egged on by the imp) in which she is visited by the ghosts of her predecessors, following which she is stabbed by her husband, and eight gigantic keys frolic over her prone body before they and the imp are banished by the fairy. Bluebeard returns to find his eighth wife trying to wash blood off the forbidden key. She starts when she sees him, and he grabs her arm, trying to get the key back. She runs up to the castle battlements to consort with her sister (who is keeping a lookout for her brothers), but Bluebeard follows her, grabs her and tosses her body around. He drags her down the steps, only to find her brothers breaking through the gate. They pin Bluebeard to the wall with a sword, and the fairy emerges from the well to summon the ghosts of his wives, who throw off their veils to reveal that they've come back to life. They shake their fists at him in unison, but are distracted by seven noblemen appearing and paying court to them. They all leave, the last to depart retrieving his sword from Bluebeard's belly. He falls to the ground, and the scenery gives way to reveal everyone else living happily ever after.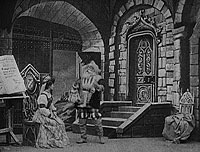 Following Cinderella (Cendrillon, 1899) and Joan of Arc (Jeanne d'Arc, 1900), Blue Beard is another multi-scene epic, staged in similar tableau format and separated by dissolves. This time, the source material is another fairytale by Charles Perrault (who also wrote Cinderella), about the legend of the fearsome Bluebeard, whose treatment of his various wives made Henry VIII seem like a marriage guidance counsellor. His story had already been retold across numerous media, including an 1866 opera by Jacques Offenbach, and it was also a popular subject in the Victorian theatre. (Within a few years of Méliès' film, it would inspire a novel by Maurice Maeterlinck, and two further operas, by Paul Dukas and Béla Bartók).
Méliès' version breaks the story down into ten tableaux, all but one set in a different location. Bluebeard's vast wealth is highlighted in the first three rooms, a lavishly appointed hall, kitchen and dining room. Through these, various physical indications of Bluebeard's fortune are transported by servants: a large pile of money, a box of jewellery, various elaborate meals. The essential disposability of the various underlings is underscored both by Bluebeard's offhand attitude towards them (when approached by one of the notaries, presumably in quest of money, Bluebeard sends his papers flying like a sudden, violent snowstorm), and the conclusion of the kitchen scene, with a sous-chef apparently drowning in one of the cauldrons. This is clearly not someone who cares too much about his fellow man.
When Bluebeard and his new wife retire to the library, the next three scenes are altogether more intimately domestic in scale. Up to this point (roughly the film's halfway mark), Méliès' staging has been entirely realistic, but when Bluebeard leaves with an explicit request that she not open a particular door, she gets a modicum of supernatural assistance to lead her into temptation. Whereas Eve had the serpent, Bluebeard's unnamed wife gets a mischievous imp, who literally springs forth from the pages of a book via a well-timed jump-cut. She can't see him, but he has her in his thrall throughout.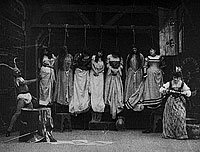 When she enters the forbidden chamber, Méliès milks the suspense by keeping the light levels low. We can make out strange bag-shaped things seemingly hanging from the ceiling, and of course those familiar with the story will know exactly what they are, but several seconds elapse before she manages to cross the room and fling open the curtain, to reveal the corpses of her seven predecessors. Méliès has often been described as one of the precursors of the horror genre, but this revelation has a genuine creepiness that earlier romps like The Devil in a Convent (Le Diable au couvent, 1899) don't come near. (What's made less clear is that the key becomes stained with the wives' blood, which is what she's trying to wash off both in this scene and later on).
After this authentic coup de cinéma, we have a Méliès dream sequence of a kind familiar to viewers of, say, The Rajah's Dream (Le Rêve du Radjah ou la forêt enchantée, 1900) - though here, the various revelations (a visitation by the ghosts of her predecessors, a premonition of her murder, a surreal parade of eight giant keys) are intimately linked to her disturbed psychological state - the keys in particular become embodiments of her combined sense of guilt (at disobeying her husband's instructions) and revulsion (at what she discovered).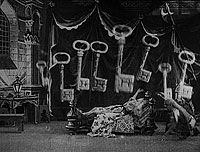 After this, the rest of the film is more prosaic. Set in the courtyard of Bluebeard's castle, it shows his return and ultimate subjugation at the hands of his new wife's relatives, the only technical points of interest being his alarmingly violent subjugation of her (achieved by switching a dummy at a key moment, along similar lines to Fat and Lean Wrestling Match/Nouvelles luttes extravagantes, 1900), and the equally violent reaction when he's literally pinned to the castle wall with a sword. The apotheosis, when the castle walls disintegrate on camera to reveal a final tableau of all the film's characters looking on contemptuously at the dying Bluebeard, presumably lasted longer than the few seconds' duration offered by the source print on Flicker Alley's DVD.
Though it's never less than watchable, this is one of the less well preserved source prints on Flicker Alley's DVD, with plenty of surface damage (including tramlines) and chemical decomposition evident throughout. Frederick Hodges' piano accompaniment effectively matches the mood of each scene.
Links