Le Tonneau des Danaïdes, 1900, 1m18s
Star Film Catalogue No. 314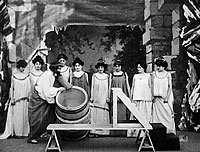 A bearded man leads eight women to stand behind an apparatus incorporating a trestle table, wooden steps and a large barrel. He orders each woman to climb into the barrel, roughly pushing down their heads. When all eight are in the barrel, he turns it over, revealing it to be empty. He rights the barrel, and leaves, and then reappears in the barrel.
Eight Girls in a Barrel doesn't offer much more than is promised by the title, as it consists of a simple sequence of shots, separated by the usual jump-cuts, in which eight women are seemingly led into the same barrel, which is then revealed to be empty - and that is essentially that: there's no real punchline aside from the magician (clad in somewhat Biblical robes and Samsonesque beard) making a final appearance in the barrel after seemingly departing the stage.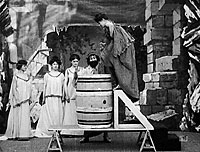 Despite dating from 1900, it could have been made at any point in the previous five years since Méliès' discovery of the creative potential of the jump-cut, and one suspects that this was knocked off relatively quickly to meet some kind of production quota. Although the French title hints at a classical allusion, with its reference to Danaids, the relationship between the film and the original Greek myth seems somewhat tenuous: there, forty-nine out of fifty daughters of King Danaus were sentenced to fill bottomless barrels with water for all eternity as a punishment. This might have been conveyed more effectively if there had been a sense that the barrel routine was about to be repeated, and continued indefinitely, but instead we merely get the perpetrator of the trick bowing to the audience as though he was an ancient precursor of a modern stage magician like Méliès himself.
The untinted print on Flicker Alley's DVD has some very minor surface damage, but aside from a brief bout of central image softness (presumably caused by warping in the original film), the print is otherwise in very good condition, with plenty of fine detail. Eric Beheim's electronic score, complete with tinkling bell effects, suggests a continuous march.
Links