L'Affaire Dreyfus, Suicide du Colonel Henry, 1899, 1m05s
Star Film Catalogue No. 209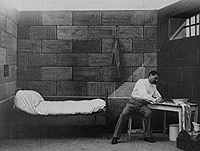 In a prison cell, Colonel Joseph Henry paces up and down before sitting at the table to write a letter. He seals and addresses it, then walks over to the bed. Halfway there, he turns round and retrieves a cut-throat razor from a leather bag on the floor. He opens it, then puts it down on the table. After a brief hesitation, he picks it up again, walks over to the bed and slits his throat. He slumps against the bed and then falls on the floor, blood soaking through his shirt. A guard opens the door, sees the scene and summons two colleagues. They examine the body while the first guard finds the letter.
With The Suicide of Colonel Henry, the fourth film in Georges Méliès' cycle The Dreyfus Affair (or possibly fifth, depending on the positioning of the now-lost The Disgrace/La Dégradation), we come to the first that doesn't feature Alfred Dreyfus as the protagonist. After depicting his arrest and two aspects of his incarceration on Devil's Island, Méliès now turns his attention to Colonel Joseph Henry (1846-1898), one of the most prominent of the so-called 'Antidreyfusards', not least because he is believed to have forged the documents that secured Dreyfus's arrest in the first place. However, Henry was caught committing further forgeries in an attempt to incriminate Colonel Picquart, the man who correctly established Ferdinand Walsin-Esterhazy as the German spy who was actually guilty of the crime for which Dreyfus had been falsely convicted. Henry confessed, and was imprisoned in the Mont Valérien fort on 30 August 1898. The following morning, he was found dead with his throat cut, a presumed suicide.
Méliès assumes that his audience would have known all about the Henry affair (his death occurred only a year or so before the film was made), and so instead of bothering with a preamble he cuts straight to the chase, imagining the last minute of Henry's life as it plays out in real time. Throughout, he is clearly suffering agonies of indecision, pacing up and down, hesitating and changing his mind - so much so that when he abruptly slits his own throat seemingly partway through another hesitation, it's a genuinely shocking moment. Although Méliès had featured knockabout slapstick violence in such films as The Adventures of William Tell (Guillaume Tell et le clown, 1898) and The Astronomer's Dream (La Lune à un mètre, 1898), that was deliberately exaggerated and jokey. By contrast, his treatment of Colonel Henry's suicide is startlingly realistic, especially once the blood starts soaking through his white shirt.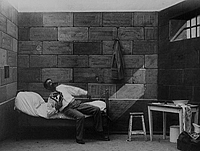 Both this film and its immediate successor, Landing of Dreyfus at Quiberon (Débarquement à Quiberon, 1899), raise interesting questions concerning the definition of "realism". Stephen Bottomore's article 'Dreyfus and Documentary' (Sight & Sound, Autumn 1984) quotes a piece in Photographic News dated 8 December 1899 discussed the subject of Dreyfus-related reconstructions (Pathé had also jumped on the bandwagon), asking "But where is this new kind of photo-faking to stop?" Although clearly staged (as ever, the "set" is a painted backdrop), Méliès was much more concerned with realism than he had been in the past, even though he was paradoxically compelled to make use of special effects (a gory throat-slitting, a superimposed storm) to ensure that the filmed version was as close to the real-life events as possible - or at least to the popular impression. In this, his Dreyfus films are a precursor of Eisenstein's October (1927), another reconstruction that's often "quoted" by documentaries as though the footage was authentic.
This is one of the better prints in Flicker Alley's Dreyfus cycle - despite occasional chemical damage and other surface blemishes, and some exposure fluctuations towards the end, the underlying image is very sharp and detailed, the better to appreciate the nuances of the performance of the anonymous actor playing Henry. Eric Beheim's electronic score has a greater sense of building towards a climax than his other Dreyfus soundtracks, with a military drumroll being introduced at the actual moment of Henry's death.
Links