La Tentation de Saint Antoine, 1898, 1m10s
Star Film Catalogue No. 169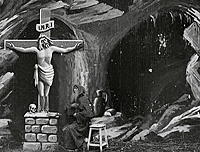 In his cave, the hermit Saint Anthony prays before an effigy of the crucified Christ. A scantily-clad woman suddenly appears, and St Anthony shields his eyes from the sight of temptation. She vanishes, and he recommences reading the Bible. Two women appear either side of him, and he recoils in horror. They vanish, and he picks up a skull from the base of the cross. However, when he kisses it, it turns into another woman, with two more appearing in quick succession. They dance in a ring around the tormented Saint Anthony before vanishing. A desperate Saint Anthony kneels before Christ, who turns into another woman. But an angel also appears, to which Saint Anthony turns with undisguised relief. The woman vanishes and Christ reappears.
Although The Temptation of Saint Anthony contains a familiar collection of Georges Méliès' trademark jump-cut-triggered appearing and disappearing acts, the overtly religious elements are entirely new - at least when it comes to his surviving titles (I don't count the devil in The Astronomer's Dream/La Lune à un mètre, 1898, as his role is more akin to the horror film than any spiritual dimension). The subject of the various mental and moral torments of Saint Anthony was already well established, having inspired sixteenth-century masterpieces by Hieronymous Bosch and Mathias Grünewald, though Salvador Dalí's variation was still several decades away.
From a distance of over a century, it's hard to know how seriously to take Méliès' film, since in essence it's very similar to The Vanishing Lady (Escamotage d'une dame chez Robert-Houdin, 1896) - the only differences being that the various scantily-clad ladies are appearing and disappearing entirely unbidden by the hapless Saint Anthony, who would rather be left alone to read his Bible in his cave.
The first two encounters - with one and two women respectively - help set the scene, but Méliès then rings a more intriguing change as he has Saint Anthony picking up a skull from the base of the effigy of Christ on the cross, kissing it as if to exorcise the image of the women. But the skull then turns into another woman, followed by two more, who join hands around him, completely trapping him in a circle of temptation. Having failed to obtain satisfaction with the skull, he turns to the effigy of Christ Himself - surely He will remain pure? But no - his eyes are further sullied by the image of a crucified woman clad in a diaphanous dress, who descends from the cross and advances on him. When an angel then appears and banishes her before blessing Saint Anthony, his relief is almost palpable.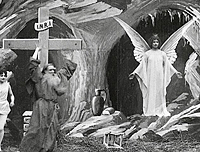 Although on a technical level The Temptation of Saint Anthony is something of a step back for Méliès (there are no effects more sophisticated than those he developed two years earlier), it nonetheless marks an advance in terms of subject matter, being one of the earliest films to tackle an explicitly religious theme. In this respect, Méliès proves himself the ancestor of Cecil B. DeMille and Franco Zeffirelli, whose own religious epics offer a similar blend of the solemn and the kitschy.
The print on Flicker Alley's DVD is marred by noticeable chemical blotching pretty much throughout, though the underlying image is very sharp and clear - rather too much so, in fact, since it is obvious that Christ is a painted flat, as is the cave set. Neal Kurz's piano accompaniment begins with shimmering scales before heavier chords signal the increasingly intolerable moral pressure being placed on Saint Anthony.
Links