Guillaume Tell et le clown, 1898, 1m01s
Star Film Catalogue No. 159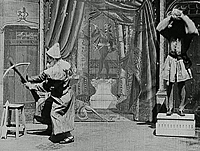 A clown performs a quick tumbling routine before assembling various dummy body parts together in the guise of William Tell. He places a large loaf of bread on its head and goes to pick up his crossbow. The dummy comes to life and throws the bread at him. The clown jumps up and down in a rage and waves his fists. He then removes the dummy's right arm and reattaches it. The dummy swipes him with it, knocking him to the ground. Enraged, the clown removes its head, kicks it and replaces it. The dummy comes back to life, knocks the clown to the floor and whirls his body around before leaving. The clown gets up, picks up his crossbow, and… (print ends here)
The French title, which translates as William Tell and the Clown, offers a rather more accurate impression of the film than the more evocative Adventures of William Tell, since this is essentially a knockabout farce based on jump-cuts and the timely substitution of dummies for real bodies. 'Knockabout' is the operative word here, since this displays a level of onscreen violence not previously seen in a surviving Méliès film, in which the participants are dismembered, beheaded, stomped on and generally tossed around like a limp dishcloth.
The central scenario involves the clown's attempt to pay homage to the legend of William Tell by constructing a dummy resembling the famous archer. The clown places a loaf of bread on the dummy's head (slightly deviating from the legend, in which Tell himself was the archer and his son was the one sporting an apple on his head), but before he can take advantage of this the dummy comes to brief but violent life, courtesy of one of Méliès' usual well-timed jump-cuts. The clown is less than amused by this, and takes his revenge by tearing off the dummy's arm and head in quick succession, before solicitously replacing them.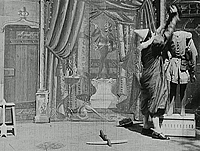 These sequences mark a bridge between the onstage effects of the famous Théâtre du Grand Guignol, with which Méliès was undoubtedly familiar, and countless later outpourings of comically extreme screen violence as seen in everything from Tex Avery cartoons to the early films of Sam Raimi. Under these circumstances, Tell's revenge, which involves the clown being tossed and trampled (or rather an obvious dummy, substituted again by jump-cuts), seems entirely appropriate.
The film ends abruptly as the clown picks up his crossbow after Tell has departed the scene. It's probably safe to assume that the original film ran a few more seconds, but probably featured nothing more dramatic than the clown exiting after Tell, bent on revenge.
The untinted print on Flicker Alley's DVD is slightly marred by numerous thin vertical scratches, and occasionally deeper tramlines, together with exposure fluctuations and obvious splice marks around the jump cuts, while chemical damage has all but obliterated the final frames even before the print reaches its premature end. Eric Beheim's tinkling, celesta-like electronic accompaniment sounds like a child's music box, conveying an implicit message that we shouldn't be taking the violence too seriously.
Links