Illusions fantasmagoriques, 1898, 1m14s
Star Film Catalogue No. 155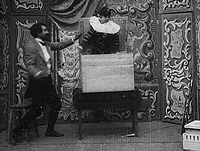 A stage magician produces a dove from his sleeve, kisses it and puts it in a large wooden box that is mounted on a small table. He then throws in various items of clothing and makes a symbolic gesture. A small child emerges from the box, and the magician carries him out, placing him on a small plinth. He then produces a large axe and cuts the boy down the middle, producing two identical children. They begin to fight each other, and the magician picks one up and turns him upside down. The boy is transformed into a piece of paper, which the magician rips up. He puts the other boy back in the box, whose walls he then systematically removes with a hammer, revealing nothing inside. He pats one of the now-separated sides of the box as it lies on the floor, and the boy reappears on top of it. The magician picks him up, and the boy turns into a couple of large flags, which the magician waves at the audience. Finally, he climbs onto the table, sits cross-legged and vanishes in a puff of smoke. He re-emerges from the side of the stage to take a bow.
The Famous Box Trick can be viewed as a kind of sequel to The Vanishing Lady (Escamotage d'une dame chez Robert-Houdin, 1896) in that it reprises many of the same elements. These include a blatantly theatrical setting, whose audience is acknowledged throughout, a bearded magician (almost certainly Méliès himself, albeit sporting a wig) going through a stage routine, a title that implies that said routine is part of a longstanding tradition, and an assortment of specifically filmic special effects that give the lie to that impression.
Two years on, Méliès' box of tricks was more copiously stuffed than was the case with the relatively primitive The Vanishing Lady. Although the jump-cut still reigns supreme, it's combined here with an effect in which a boy is 'sliced' with an axe, dividing him into two identically-dressed children. It's an effect that both harks back to stage magic (the use of a double being the simplest way of implying that someone is either in two places at once or has made a physically impossible journey), only it's triggered here by a jump-cut that would be impossible to duplicate on stage.
But it's also worth noting that this effect is the first that we encounter in the film, and it doesn't appear until near the halfway mark. Before then, the film does indeed seem to be a straightforward actuality record of a Méliès stage performance, starting with the dove being produced from his sleeve and being tossed into the box along with a set of clothes. Although there appears to be a jump-cut just before the boy appears, there's no obvious need for one: up to this point there's nothing in the film that couldn't have been duplicated on stage.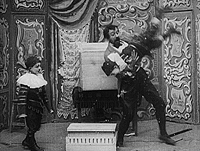 The division by axe is by far the film's high point, after which it returns to familiar Méliès territory, with both boys being transformed by more jump-cuts into a piece of paper and a couple of flags respectively, and we have also seen an exploding disappearing act in such films as The Bewitched Inn (L'Auberge ensorcelée, 1897) and The Magician (Le Magicien, 1898).
The print on Flicker Alley's DVD is marked by white speckles and tramlines more or less throughout, though is otherwise very watchable. Frederick Hodges' piano accompaniment is a jaunty theme-and-variations arrangement.
Links