Le Château hanté, 1897, 0m44s
Star Film Catalogue No. 96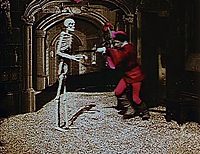 A man defies warnings from his friend and prepares to spend the light in a haunted castle. He sits nonchalantly down in a chair - which vanishes and reappears on the other side of the room, causing him to fall to the ground. He gets up, looks around indignantly, walks over to the chair, reaches out to move it back, but is alarmed by the sudden appearance of a mysterious apparition clad in white robes and cowl and holding a box. Drawing a sword, the man runs him through, only to find the apparition turning into a skeleton. He shakes the skeleton and it turns into a burly guard clad in armour. He vanishes, and another man appears behind the central character, pointing out the reappearance of the white-cowled apparition. (The film ends abruptly here)
Moving into his second year of film production, Georges Méliès was still enraptured by the possibilities of the simple jump-cut, which is used here to cause ghosts, skeletons and other sinister beings to appear and disappear at the director's whim, much to the bewilderment of the film's hapless protagonist - who seems to be either a nightwatchman taking over a shift or a man taking a bet from a friend that he won't last a full night in the haunted castle.
Sadly, the film's abrupt and inconclusive ending, as well as its relative brevity (it's about 25 second shorter than the other Méliès films of the period) suggest that as much as the final third may have been lost, but there's more than enough going on in the footage that remains to retain attention.
As in A Nightmare (Le Cauchemar, 1896), the protagonist is beset by sinister visions, starting with a disobedient chair. However, he's more proactive than his predecessor in that when a cowled apparition holding a box appears, he decides that the simplest course of action is to run him through with a sword, whereupon he naturally turns into a skeleton (by no means a first for Méliès: a similar transformation can be seen in The Vanishing Lady/Escamotage d'une dame chez Robert-Houdin, 1896). Sadly, the technology of the time doesn't allow the skeleton to do very much except wobble unthreateningly when poked.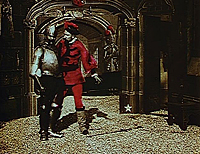 The final transformation to a burly guard is well handled, but after he disappears the film becomes incomprehensible, presumably thanks to a missing ending. Another man appears - he is not the colleague from the start, though he doesn't seem to possess supernatural trappings - and points out the re-emergence of the cowled figure, but the film then ends just as Méliès seems about to explore similar variations to those that concluded A Nightmare.
Flicker Alley's print has been hand-stencilled, with the protagonist given a fetching red outfit that certainly assures that he remains the centre of attention: aside from a couple of decorations elsewhere in the same red shade, the rest of the image is in sepia-tinted monochrome. The print has a fair amount of surface damage, including chemical blotches: it's not clear whether the mysterious ectoplasmic material briefly superimposed over the black-clad character that appears towards the end is a deliberate special effect or a by-product of deterioration. Eric Beheim's electronic accompaniment broadly consists of two iterations of the same call-and-response musical phrase.
Links