L'Affaire Dreyfus, Mise aux fers de Dreyfus, 1899, 1m06s
Star Film Catalogue No. 208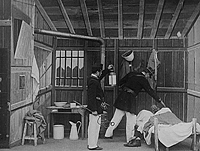 1896. In a hut in the Devil's Island stockade, Alfred Dreyfus is sleeping. Two guards walk in, one holding a lantern and some leg-irons. The other wakes him, and produces a written order, which he reads aloud. Dreyfus is clearly distressed by its contents, and pleads for mercy. However, the guards hold him down on his bed, fit metal bands round his ankles, attach them to the leg-irons and fix the latter to the bed. The guards quickly check the contents of the room and leave.
Dreyfus Put In Irons is, in effect, the second half of a diptych that began with Devil's Island - Within the Palisade (L'Affaire Dreyfus, L'Île du Diable, 1899), the two films from Georges Méliès' eleven-film The Dreyfus Affair series that specifically cover his incarceration in the French Guyana prison. While the earlier film showed his psychological torment (denied all but the most basic of human contact, as the guards are barred from speaking to him), this depicts rather more physical discomfort.
The film is clearly set within the same stockade depicted in the previous film, as the same distinctive outer wall made from pointed whitewashed wooden planks is visible through the rear window. However, this time we're in Dreyfus' cell, reasonably spacious but otherwise spartan in both décor and amenities: a bowl, a bucket and a jug. Even these will shortly be out of reach, as soldiers clap him in leg-irons that fasten him to the bed, performing the task with a matter-of-factness that underlines the fact that they're only obeying (written) orders.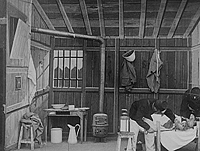 Curiously, one of the soldiers has been given a lot of business to do with the lantern - he's constantly holding it up with the apparent intention of revealing important details. However, the ambient light in the cell is more than adequate, and the lantern doesn't appear to be emitting any of its own: presumably the insensitive film stock of the time would not have been capable of registering a genuinely lantern-lit scene. So while this is arguably both a technical and a dramatic flaw (the soldiers' gestures suggest an altogether more crepuscular environment), it's a forgivable one under the circumstances.
While the untinted print on Flicker Alley's DVD displays the usual blend of surface and chemical damage, the underlying image is so sharp and clear that this is very easy to tune out. Eric Beheim's electronic score consists of a slow descent, paralleling Dreyfus's darkening mood as the guards make it clear that there's no room for clemency.
Links
Posted on 31st May 2008
Under: Historical Re-enactments, 1899 | No Comments »