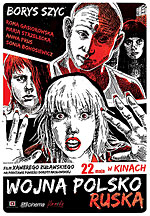 Snow White and Russian Red (Wojna polsko-ruska, d. Xawery Żuławski, 2009).
It was clear well before the screening that this was attracting the competition's greatest buzz, and it was obvious why from the first few minutes. Xawery Żuławski is clearly the only man on the planet who thinks his father Andrzej's films aren't insane enough, and is determined to show him how to do it properly. But buried under his turbocharged fusion of violent sex, prodigious drug consumption, projectile vomiting, pissing on budgies, Matrix-style CGI-assisted kung fu battles and postmodern interludes incorporating cameos from Dorota Masłowska (author of the source novel) is a wincingly convincing study of a rudderless post-Communist Poland. This is embodied in the persona of Andrzej (cruelly but accurately nicknamed 'Yobbo' in the subtitles and brilliantly played by Borys Szyc), whose shaven head and swaggering gait hide none too well concealed insecurities, cruelly highlighted through his encounters with assorted women. The print under review had the poorest English subtitles of any in the competition, and it ideally needed footnotes too, but there's no doubting its verve and energy - for me, it came far closer to the anarchic spirit of Irvine Welsh's novel Trainspotting than did Danny Boyle's softened-up film version. It was a hard-fought jury battle, but I'm delighted that we awarded Żuławski the top prize, and even happier that the announcement attracted a handful of boos as well as wild cheers from the audience, not to mention visible surprise on the director's part. For a film this confrontational, anything less would have been the dampest of squibs.
---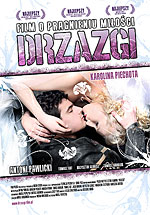 Splinters (Drzazgi, d. Maciej Pieprzyca, 2008)
An irritatingly tricksy narrative structure pilfered wholesale from Pulp Fiction (and it's not even the first Polish film to do this: Tomasz Konecki and Andrzej Saramonowicz' The Body/Ciało came out in 2003) fatally mars appreciation of these slices of contemporary Polish life, despite several bright spots. There are three intertwining narratives - 'Match', 'Veil' and 'Mirage', each with their own youthful protagonist: thuggish lout Robert (Antoni Pawlicki), kooky bride Marta (Karolina Piechota, the standout performance) and imminent graduate Bartek (Marcin Hycnar), all living in the same dreary Silesian industrial town, and all stuck in dead-end relationships: Robert is romancing a supermarket check-out girl who's already married to a suspicious husband, and whiles away the time with petty theft, vandalism and racial assault, Marta is engaged to the dull-witted Sebastian in what is quickly revealed as a union intended to cement their fathers' business partnership (Marta's dad having framed not only the contract that started it up but also the ballpoint pen that signed it), while in the film's funniest scene Bartek tries to appal his fiancé's father into forbidding the marriage by hinting at a shockingly dissolute lifestyle, only to discover that his future in-law is unnervingly well informed on the properties and availability of cannabis and angel dust. Another incidental treat is 'Love Me Tender' sung by a Polish Elvis impersonator, driving by in an iconic pink Cadillac, an incongruously garish splash of colour in an otherwise calculatedly drab environment.
---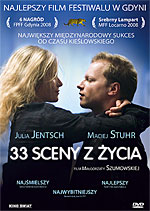 33 Scenes From Life (33 sceny z życia, d. Małgorzata Szumowska, 2008)
I'd already seen Małgorzata Szumowska's autobiographical family saga last March when it opened the Kinoteka Polish Film Festival in London, but it stood up well to repeated viewing. But I found that while I recalled the first half vividly, the second was a hazy blur, largely because once a prominent character dies of cancer, the film is left with little to do: another death is treated almost perfunctorily, as is the discovery of an affair, and while this may well be a reflection of how it happened in real life, this doesn't necessarily make for wholly satisfying drama. That said, there's more than enough here to rank this as one of the better films in the competition: Szumowska has a real eye for quirky but telling detail, and a gift for drawing out heartfelt performances (apparently there was much on-set improvisation), and the film's many incidental pleasures included Paweł Mykietyn's surprisingly dense, modernist score - ostensibly the creation of Maciej Stuhr's character, a successful composer, and given several prominent airings during the film's many slow fades to several seconds of black. Performances are generally excellent, with Julia Jentsch and Peter Ganzler deserving particular praise for convincingly playing members of a large, close Polish family (they learned their lines phonetically and were dubbed by native speakers). Incidentally, the title may now be misleading - there were originally 33 scenes in the script, but Szumowska couldn't recall whether they'd all survived the editing, and presumably felt superstitious about counting.
---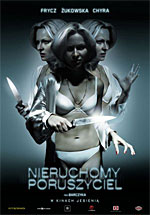 Unmoved Mover (Nieruchomy poruszyciel, d. Łukasz Barczyk, 2008)
Łukasz Barczyk's second feature had one of the strongest openings of any film in the competition, in which a child voices scepticism about fundamental tenets of the Catholic faith, conclusions that he reached independently of his parents. It seemed to set the scene for something genuinely provocative, which is why it's a shame that the rest of the film was, at least for a viewer well versed in the later work of David Lynch, a familiar psychosexual melodrama about a factory worker, Tereza, who becomes her male boss's sex slave (he's known only as the General) - or is this merely an imaginative projection of his darkest fantasies? Or hers? The endless parade of weirded-out set-pieces eventually became numbing rather than stimulating, though it would be churlish not to acknowledge several genuinely striking moments: the recurring motif of a detachable doorknob as an indicator of sexual power, the General expressing atonement by kneeling in front of Tereza's house for hours on end, a climactic murder involving a gas mask, a car exhaust and a big plume of smoke over an otherwise tranquil forest. Barczyk clearly has talent to burn (the film was shot on a minuscule budget, though it's as technically polished as any mainstream release), and I'd be curious to see what else he does - or indeed has done, as his first feature Changes (Przemiany, 2003) is out on DVD with English subtitles.
Posted on 15th August 2009
Under: Uncategorized, Poland, Xawery Żuławski, Łukasz Barczyk, Maciej Pieprzyca, Małgorzata Szumowska | No Comments »