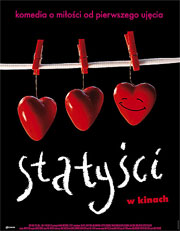 Brief notes on two recent Polish films - Extras (Statyści, 2006) is a romantic comedy directed by Michał Kwieciński, which I'll be covering in more detail for Sight & Sound. It's a pretty standard genre entry, with assorted people being thrown into a certain situation and discovering their feelings for each other (or not, as the case may be), though it deserves some points for the originality of the setting. For some reason that's never satisfactorily explained, a Chinese film crew is shooting an equally Chinese romantic melodrama in Poland, and assorted Poles have been hired as extras, because the film is a tragedy and Poles apparently look uniquely miserable (there are cultural stereotypes galore flying in both directions). And once that's set up, the film proceeds much as one would expect if it had starred Hugh Grant or Sandra Bullock, though it's pleasant enough (if overlong at nearly two hours).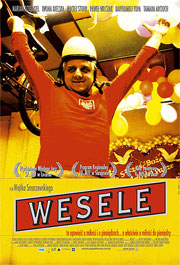 Much more to my taste was The Wedding (Wesele, 2004), directed by Wojciech Smarzowski. Apparently there are subtle nods to Andrzej Wajda's 1973 opus of the same name (and its source play by Stanisław Wyspiański) though you probably have to be Polish to pick them up (which is true of most of the nuances of Wajda's film too). Not that this really matters, as there's more than enough to chew on elsewhere. As the title implies, it's entirely set during a disastrous wedding, nominally financed by the bride's father Wieslaw Wojnar (Marian Dziędziel) on the back of what turns out to be a whole string of deeply dodgy deals, all of which graphically unravel during the celebrations - how do you explain to your family that you've just had your finger shot off by a man promising worse at midnight if certain conditions aren't met? It also doesn't help that the bride's former boyfriend Mateusz (Maciej Stuhr, son of Jerzy) has been hired to record the event on video and ends up noticing (and taping) more than he should…
It's the third Polish black comedy that I've seen in as many weeks, but I found this altogether more satisfying than The Body (Ciało, 2003) or Testosterone (Testosteron, 2007), because instead of falling back on nudge-nudge hommages to Quentin Tarantino it was confident enough to inhabit its own warped universe - Kafka is probably an overly lofty comparison, but there are plenty of echoes, especially given the overriding theme of the corruption of authority.
Posted on 19th September 2007
Under: Poland, Michał Kwieciński, Wojciech Smarzowski | No Comments »