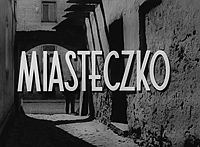 Miasteczko
1956, black and white, 10 mins
Director: Jerzy Ziarnik
Script: Krystyna Gryczełowska
Camera: Antoni Staśkiewicz
Editor: Krystyna Rutkowska
Sound: Halina Paszkowska
Music: W. Kotoński
Narration: Tadeusz Łomnicki
Production Company: Wytwórnia Filmów Dokumentalnych (Documentary Film Studio)
The gauntlet is thrown down from the opening title, a quotation from the then recently deceased poet Konstanty Ildefons Gałczyński (1905-53) that says "How to speak the truth about Poland…" ("Jak tu prawdę o Polsce powiedzieć…") - the largely correct implication being that Polish documentaries prior to the mid-1950s 'black series' did no such thing. This is followed by a montage of what initially appears to be a series of calculatedly picturesque shots of the little town of the title, the idyllic feel enhanced by a lazily-paced guitar accompaniment. But the commentary puts us right with a more than usually pessimistic opening line: "Sinking ships send an S.O.S., the signal calling for help, but little towns die out with no groan." Although shot in Staszów in the Kielce region, the location is a surrogate for thousands of similar towns across Poland, the narration making it clear that 'Wincentowo' is a pseudonym.
What becomes equally clear is that the men and women lounging in doorways soaking up the heat on what appears to be an idyllic summer's day are there because they have no alternative in a place where unemployment is running at 20%, and anyone even halfway talented has either left already or is planning to - "and no-one ever returns". Formerly productive lime kilns are overgrown with grass, the brickyard has vanished altogether, and most of the work is carried out by small local cooperatives, their orders decreasing and their wages dropping steadily - though such organisations still have administrative advantages over people who work as sole traders. The weekly market is the only time when the town really comes to life.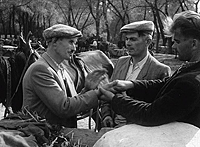 Wincentowo used to be a specialist shoe-making town, with centuries-old legends about catering for the feet of King Stanislaus Augustus in the sixteenth century. But it's not a business to be in during times of economic hardship, as raw materials are expensive. As the film demonstrates, the deceptively thriving market is essentially a front for the black market in leather - a risky trade, since the penalties for getting caught are severe, and uniformed inspectors prowl the stalls. A man is caught and sentenced to a year's imprisonment and a hefty fine, and his weeping wife leaves the court on her own, to break the news to her two children.
Is there anything in Wincentowo that's doing well? Yes, says the narrator, switching to bitter sarcasm: secretaries and administrators have plenty to do, since the bureaucracy governing every aspect of life in the town has mushroomed - and a key factor in driving people out, unless their ties to the town are so deep-rooted that it's emotionally impossible, or their family circumstances make it too much of a risk. But the shadow of a man swigging from a bottle, cast over a poster promising sun and adventure, makes it clear what the only option is for entertainment - when they're not pacing aimlessly down the street. (The music, while not changing in essence from before, now accentuates the impression of drift).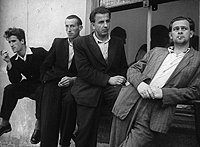 As with the early films of Kazimierz Karabasz and Władysław Ślesicki (Where the Devil Says Goodnight/Gdzie diabeł mówi dobranoc, 1956; People from an Empty Zone/Ludzie z pustego obszaru, 1957), there's little direct finger-pointing, though debutant director Jerzy Ziarnik and scriptwriter Krystyna Gryczełowska (both of whom would go on to be ranked amongst the most important Polish documentary-makers) make it clear that wholly unnecessary legal and administrative red tape is strangling the life out of a town that was already struggling. One of the most telling details comes when the commentary says that almost every house in Wincentowo contains someone who has a criminal record, usually for attempting to circumvent official channels.
Unlike the other key rural title in the 'black series', Włodzimierz Borowik's Rocky Soil (Skalna ziemia, 1956), there's not a hint of optimism: the only way these people's lives will be improved is through wholesale reforms that are entirely outside their control. Over the final, all too symbolic image of shutters slamming shut, the commentator asks whether the truly courageous people aren't so much those who decide to leave as those who are prepared to return?
The film is included on PWA's Polish School of the Documentary: The Black Series double-DVD set (Region 0 PAL). Apart from some slight exposure fluctuations and minor spots and scratches, the print is in very good confition for its age, and the fact that it's mostly shot outdoors in broad daylight ensures that the picture is rather sharper than many of the more crepuscular entries on these discs. The optional English subtitles are also fine: seemingly comprehensive (covering onscreen text as well as narration), well-written and properly synchronised.
Posted on 18th April 2008
Under: Documentary, Reviews, Poland, Jerzy Ziarnik | No Comments »