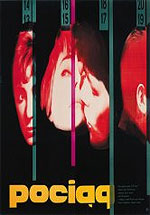 Pociąg
1959, black and white, 93 mins
Director: Jerzy Kawalerowicz
Script: Jerzy Lutowski, Jerzy Kawalerowicz
Camera: Jan Laskowski
Production Design: Ryszard Potocki
Editing: Wiesława Otocka
Sound: Józef Bartczak
Costumes: Michelle Zahorska
Production Manager: Jerzy Rutowicz
Production Company: Zespół Filmowy Kadr
Cast: Lucyna Winnicka (Marta), Leon Niemczyk (Jerzy), Teresa Szmigielówna (lawyer's wife), Zbigniew Cybulski (Staszek), Helena Dąbrowska (conductress), Ignacy Machowski (passenger), Roland Głowacki (murderer), Aleksander Sewruk (lawyer), Zygmunt Zintel (insomniac passenger), Tadeusz Gwiazdowski (conductor), Witold Skaruch (priest), Michał Gazda (passenger flirting with lawyer's wife), Zygmunt Malawski (policeman), Józef Łodyński (plain-clothes policeman), Kazimierz Wilamowski (passenger sleeping in the conductress's car), Jerzy Zapiór (boy fooling around), Andrzej Herder (sailor), Barbara Horawianka (Jerzy's wife), Joanna Jóźwiakówna (girl with a transistor), Ludwik Kasendra (passenger), Janusz Majewski (Janusz), Czesław Piaskowski, Henryk Staszewski, Mieczysław Waśkowski (passengers)
By the time Jerzy Kawalerowicz made his sixth feature in 1959, overnight trains had long been established as an ideal setting for scenarios of intrigue and suspense: Alfred Hitchcock in particular had very much made the genre his own. But although a fair amount of Night Train (also known as Baltic Express, both titles more evocative than the blunt Train, a literal translation of the original) seems to seems to be running along effectively Hitchcockian lines, Kawalerowicz seems more interested in the psychological make-up of his various characters and the way in which their behaviour and conversations reveal things about themselves that they'd rather keep hidden. Though there's a murder subplot, it's presented in a distinctly low-key fashion (the murder itself happened in the past), and is dispensed with long before the end.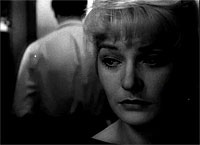 The bulk of the film is set in a single sleeper carriage, and much of that within compartment 15/16. Due to a mix-up (one of the tickets was purchased on the black market), this is inadvertently occupied by two people of the opposite sex, who turn out to have much in common. Marta (Lucyna Winnicka, the director's future wife) is simultaneously travelling to meet her former lover in the Baltic resort of Hel, and trying to escape the attentions of Staszek (Zbigniew Cybulski), a brief fling who has followed her onto the train and is bent on stalking her (at one point even hanging outside her window as the train is moving, a scene given additional - albeit unintended - tension given that Cybulski would meet his real-life death eight years later while running to catch a moving train). Physical evidence on her wrists suggests at least one suicide attempt, revealing a woman given to passions and impulses, swinging wildly between emotional peaks and troughs.
Her unexpected companion Jerzy (Leon Niemczyk) is harder to read, not least thanks to the dark glasses that he insists on wearing for much of the early part of the film. This ambiguity is key to much of the film's psychological tension: it's known from the start, thanks to a widely circulated newspaper article, that a murderer is on the loose, and Jerzy has turned up on the train in a hurry, requesting that he have a compartment to his own and being prepared to buy two berths for the privilege. Even though he eventually agrees to let Marta share with him, he says that this is because he doesn't want the no-nonsense conductress (a scene-stealing Helena Dąbrowska) to cause a fuss. He's also visibly jittery, erupting in fearful rage when he sees a white bedsheet over Marta's feet, as though she was already lying in a morgue.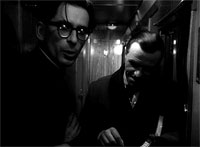 The film's rich supporting cast is made up of several character types. Next door to Marta (Aleksander Sewruk) and Jerzy's compartment is a lawyer and his wife (Teresa Szmigielówna) - he's obsessed with an upcoming case, so she spends much of her time hanging around in the corridor behaving more than a little flirtatiously with the other passengers (and clearly has eyes on Jerzy - whenever his door is open, she's invariably visible). The corridor on the right-hand side of compartment 15/16 is also permanently occupied by an insomniac (Zygmunt Zintel, the foreman in Wajda's A Generation/Polokenie, 1954), and occasionally by a priest and various others, with almost everyone offering caustic comments on the proceedings at some point.
The suspense-thriller elements mean that I shouldn't discuss the plot in too much detail, but it's worth highlighting the way the film can also be read as an allegory of life in post-Stalinist Poland. The black market's existence is acknowledged, and rules are no longer rigidly imposed (as demonstrated by the conductress' willingness to allow Jerzy and Marta to continue sharing a compartment when they make it clear they don't mind), but there's still widespread concern about the knock on the door in the middle of the night - justifiably so, in Jerzy's case, since he ends up handcuffed mere seconds later. Above all, a key set-piece two-thirds of the way through illustrates the terrifying power of a mob fired with righteous anger - emphasised visually by an aerial shot looking straight down on them as they wreak their revenge, and dramatically by the fact that we've come to know and like many of these people individually, though here they're reduced to unreadable dots.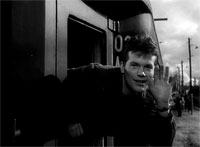 Kawalerowicz and his cameraman Jan Laskowski film these various encounters in an oppressively claustrophobic way, using wide-angle lenses to achieve greater depth of field while still making foreground characters stand out from their surroundings. The high-contrast lighting recalls film noir's use of toned-down Expressionism. Ryszard Potocki's production design is beyond praise - although created almost entirely in the studio, and some of the more elaborate camera movements clearly couldn't have been shot on an actual moving train, the illusion is wholly convincing. The back projections are state of the art, augmented by carefully-designed lighting on the actual set, and whenever a character leans out of the window, powerful fans suggest high winds - small wonder that the film won the Venice Film Festival's Georges Méliès award for its technical achievement.
Equally resourceful is the improvised jazz score, inspired by Artie Shaw's 'Moonglow' and making extensive use of wordless female vocals and vibraphone. The effect is very similar to that of the Miles Davis score in Lift to the Scaffold (L'ascenseur pour l'échafaud, d. Louis Malle, 1957), which may have been its direct inspiration - but whatever the source, it works brilliantly here, not least because its upbeat, almost yearning tone contrasts so much with the crepuscular images and suggests that there's much more to what we're seeing than initially meets the eye. Which, presumably, is exactly what Kawalerowicz intended.
---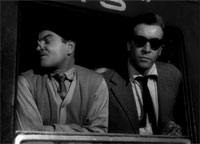 DVD Distribution: There are at least three DVD releases of Night Train, though the single-disc Polish edition (Best Film Co, Region 0 PAL) doesn't appear to have English subtitles. However, the version included in the same company's box set 50 Years of the Polish Film School volume 2 (50-lecie Polskiej Szkoły Filmowej 2 not only has English subtitles but also a well-produced 36-page booklet in Polish and English. There's also a US edition available on the Polart label (Region 0 NTSC), which I haven't seen.
Picture: The source print is in more than acceptable condition for a 50-year-old film - the occasional white dust spot can be tuned out, and more severe damage is kept to a minimum. However, shadow detail is virtually nonexistent in this extremely crepuscular film - this isn't a major problem when we're actually on the train, as the high-contrast lighting ensures that faces and other key details are always visible, but when the action shifts to a nearby field in the early dawn, it's virtually impossible to make out what's going on below the line of the horizon.
Sound: Two soundtracks are on offer: a Dolby Digital 5.1 remix and a Dolby Digital 2.0 track - probably the original mono. The latter has more hiss and crackle, but also sounded more "natural" to my ears - even over and above the artificial surround sound of the 5.1 track, it comes across as over-processed.
Subtitles: The English subtitles have a few typos, but the translation is always perfectly clear. Subtitles are also provided in French, German, Russian and Polish
Extras: The on-disc extra is a short six-minute featurette about the film, presented in unsubtitled Polish. Far more useful to English speakers is the accompanying booklet, a well-produced 36-page affair that includes a lot of background information about the film, a biography of Kawalerowicz, full credits and some very high quality stills (rather too high quality, in fact, as they put the DVD transfer to shame!).
---
Links
Posted on 16th October 2008
Under: Reviews, Poland, Jerzy Kawalerowicz | No Comments »