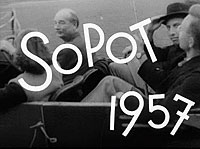 1957, black and white, 16 mins
Director/Script: Jerzy Hoffman, Edward Skórzewski
Camera: Antoni Staśkiewicz
Editor: Ludmila Godziaszwili
Sound: Bohdan Jankowski
Commentary Text: Stefania Grodzieńska
Narrator: Jerzy Wasowski
Production Manager: Andrzej Liwnicz
Production Company: WFD
Between 1954 and 1956, Jerzy Hoffman and Edward Skórzewski issued a series of hard-hitting cinematic challenges to a Polish documentary movement that was only just beginning to emerge from the crushing impact of World War II and the more consciously stifling period of Stalinism that followed. Films like Are You Among Them? (Czy jesteś wśród nich?, 1954) and especially Look Out, Hooligans! (Uwaga chuligani!, 1955) and The Children Accuse (Dzieci oskarżają, 1956) virtually rubbed their audiences' noses in their various subjects (vandalism, hooliganism, crime, murder, alcoholism, child abuse) in a memorably head-on, calculatedly sensationalised fashion that was designed to be as bluntly provocative as possible.
As a result, it's initially hard to believe that this relaxed and cheerful study of Poles holidaying at the popular Baltic beach resort of Sopot was made by the same directors. Whereas in the past the titles of Hoffman and Skórzewski's films would slam onto the screen as if spraypainted, here they saunter from all directions, imprinted over the laughing, cheering faces of a crowd watching a decorative parade. Mikołaj Jazdon's notes for PWA's DVD release helpfully identify this as the opening ceremony of the second Polish Jazz Festival, staged in Sopot from 14-21 July 1957 - one of the banners advertises the Komeda Sextet, which can be seen performing in Andrzej Brzozowski's film Jazz Talks (Rozmowy jazzowe), made the same year. This sequence, and the equally joyous one that follows in which Polish jazz bands perform with visiting American musicians Albert Nicholls and Big Bill Ramsey, couldn't be further removed from Hoffman and Skórzewski's alarmist use of jazz as a pounding, rhythmic accompaniment to violence and degeneracy in Look Out, Hooligans! - here, the crowd shrieks as though rehearsing for the possibility that the Beatles might turn up a few years later, and the atmosphere is wholly benign.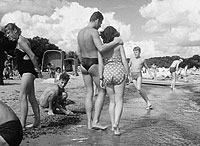 The most revealing indication of a change of direction comes in the subsequent sequence on Sopot beach, where Hoffman and Skórzewski make a point of showing how they concealed their cameraman, as though they were wildlife filmmakers shooting exotic but shy species. This is deceptive: there are plenty of camera angles and movements that could only have been obtained by shooting up close to their subjects (indeed, filming the cameraman himself would have necessitated a second camera positioned outside the 'hide'), but the implied message is that unlike their previous films (which deliberately staged events for maximum impact, sometimes with actors), they're trying to capture authentic slices of life which would go on regardless of their presence. The playful tone is carried over into the commentary, finding spurious anthropological justification for a montage of bare female legs before cutting to the male equivalent - and then panning up to reveal a shaven-headed quintet (Yul Brynner's The King and I was a big recent hit). The filmmakers aren't biased: they seem equally fascinated by young and old, fat and thin, and the naked breasts of comely young women and overweight middle-aged men get more or less equal screen time.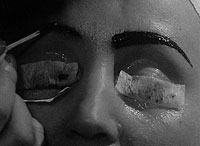 The camera then decamps to Sopot's famous pier, followed by the town centre, through which assorted couples, some unmarried (as the commentator tartly highlights over a close-up of a roving male hand lacking a wedding ring) either promenade or relax. Relaxation isn't on the minds of various Miss Poland beauty contestants, though, as a montage of assorted treatments, massages and applications of nameless unguents shows what they have to go through in order to look convincingly fresh and natural on the catwalk. When night falls, the inhabitants of Sopot come out to dance. The commentator hints darkly that we may be in for a re-run of Look Out, Hooligans! as he talks of "moving to the battlefield", though it turns out to be an entirely metaphorical one, as couples dance the night away - aside from a lone man who's apparently waiting for Brigitte Bardot (who just become a major star in Roger Vadim's scandalous Et Dieu créa la femme, released a few months earlier).
The upbeat mood of the film's first two-thirds of the film change when the rain starts falling, becoming more wistful and reflective, Sopot's visitors and inhabitants distorted behind rivulets running down café windows. But this largely commentary-free introspection doesn't last long, as the film concludes in the sweaty huddle of a basement jazz club, a spotlight swinging across performers and dancers to accentuate the high-contrast noirish feel. Finally, as a lone whistler segues to a full-on jazzed-up version of Kurt Weill's 'Mack the Knife', the holiday ends.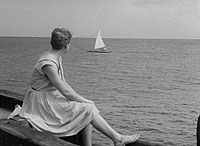 Sopot 1957 could easily be mistaken for a travelogue, especially if watched with the sound turned down - but it's worth noting what it leaves out, given that Hoffman and Skórzewski's earlier films were rather keener on context. We're not told, for instance, that this jazz-driven film (which infuses the entire soundtrack, not just the onscreen performances) is paying tribute to a musical art form that had been banned outright in Poland until very recently, and neither are we given any sense of Sopot's long history. The commentary even eschews the kind of statistics that normally pepper images like this (such as the fact that the pier was and remains the longest wooden one in Europe), and any sociological observations are deliberately pitched at a trivial, jokey level. Hoffman and Skórzewski's priority is to capture fleeting impressions from the summer of 1957, living very much for the moment.
The film is included on PWA's Polish School of the Documentary: The Black Series double-DVD set (Region 0 PAL). Happily, this has one of the better source prints on these discs, with only a modicum of minor spots and scratches and a sharp, nicely contrasted image with plenty of detail even in the highlights and shadows. The soundtrack is the original mono, and technically perfectly adequate, neatly balancing the commentary with a near-continuous jazz-influenced accompaniment. There are a few typos in the subtitles, but their overall quality is generally above average for this release.
Posted on 22nd October 2008
Under: Documentary, Reviews, Poland, Jerzy Hoffman, Edward Skórzewski | No Comments »