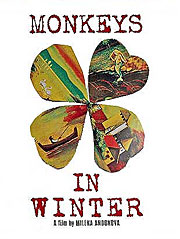 Monkeys In Winter
Маймуни през зимата
2006, colour, 107 mins
Director: Milena Andonova
Writers: Milena Andonova, Mariya Stankova
Camera: Rali Raltschev, Radoslav Spassov
Editing: Petar Popzlatev
Design: Georgi Todorov
Music: Konstantin Tzekov
Producer: Nevena Andonova
Production Companies: Proventus Film House, Tatfilm
Cast: Bonka Ilieva-Boni (Dona; Diana Dobreva (Lucrecia); Angelina Slavova (Tana); Sava Lolov (Frantzuzina); Valentin Tanev (Lazar); Adriana Andreeva (Lelya Zina); Filip Trifonov (Motorista); Stefan Mavrodiyev (Invalida); Assen Blatechki (Nacho); Ivan Savov (Priyatelya); Toncho Tokmakchiev (Shishkoto); Peter Krastev (Turchina); Tzvetomira Hristova (Drugata)
Given a one-off screening in London this month as part of the Bulgarian Film Festival (though it had previously screened at last year's London Film Festival), Milena Andonova's Monkeys in Winter is one of the most acclaimed Bulgarian films of recent years, and won the Best Eastern European Film award at the 2006 Karlovy Vary Film Festival. The same year, two not dissimilar films by female directors with south-east European links won major festival awards - Jasmila Žbanić's Esma's Secret (Grbavica) and Andrea Staka's Das Fräulein - which shows an encouraging trend in a part of the world not exactly renowned for its feminist leanings to pay closer attention to voices that have too often been marginalised. This is one of the key themes of Andonova's film, which offers three short stories (adapted from the work of co-writer Mariya Stankova) about women of different generations - and demonstrates that despite their different cultural, financial and political backgrounds, the problems they face remain fundamental to this day.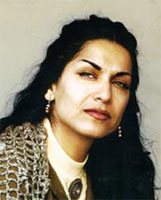 In the first, set in 1961, gypsy-born Dona (Bonka Ilieva-Boni, a folk singer in real life) brings up her three children in a crumbling shack whose few accoutrements are repossessed by bailiffs - just about the only thing she has any sentimental attachment to is a bedhead painted with a fantasy scene involving a mermaid (one of the best lines in the film concerns the irresponsibility of the species). Cheerfully ignoring the entreaties of the bureaucrats who try to run her life according to their terms, Dona isn't even averse to a little light prostitution on the side if it will help make ends meet. But when her boyfriend Nacho (Assen Blatechki) runs out on her, she unwisely accepts the offer of an arranged marriage at the behest of a friendly local party official (who spends this part of the film trying fruitlessly to guide her onto the straight and narrow) - and it becomes very clear very quickly that her new husband (Stefan Mavrodiyev) is a match made in the very bowels of hell.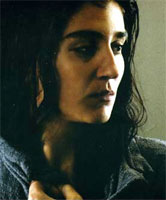 Twenty years later, Lucrecia (Diana Dobreva) would seem to have every advantage that Dona lacked: a brilliant law student, she's head-hunted by five prestigious courts. But all of them are in the country, and she wants to stay in her beloved Sofia. Foolishly, she takes advice that becoming pregnant by a Sofia resident will force the authorities to let her stay, changes her mind when it's too late to turn back (legal abortion terms were just 14 weeks back then) and, worse, falls seriously in love with a French student (Sava Lolov) but decides to conceal her pregnancy from him. Furthermore, she's troubled by recurring dreams of childhood incidents at a public spa which she attended with her pushy mother, and which may offer some clue to her present psychological difficulties.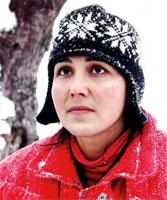 Tana (Angelina Slavova) has exactly the opposite problem to Lucrecia - despite being in a blissfully happy marriage, she can't have the one thing she most wants, as all attempts at getting pregnant have come to nothing. Naturally, she assumes it's her fault, though a subsequent investigation puts the blame on her middle-aged husband Lazar, a blow to his masculinity that nearly destroys their relationship. Although ostensibly far more materially comfortable than Dona or Lucrecia, Tana is just as helpless when it comes to the more basic of human impulses - especially when her desire for a child means that her eye starts to stray in the direction of other men, despite her otherwise unconditional love for Lazar.
The three lead performances are all first-rate, and Andonova also has a terrific eye for landscape, her protagonists' fondness for bright reds and oranges making them stand out in the compositions. She also clearly has a sense of humour even in the midst of decidedly bleak subject-matter - I particularly liked the woman at the sex clinic, a caricature of every jobsworth Eastern European rolled into one, made doubly delicious by the fact that she's still doing exactly the same job twenty years later. My only serious criticism is that all three stories ultimately toppled over into somewhat simplistic melodrama, which was the major problem with Esma's Secret too (though not the subtler Das Fräulein) - the layered, nuanced build-ups with their multiple parallelings and echoings, and the evocative images of Japanese monkeys in the snow providing an effective overarching metaphor (and also the film's title) deserved something more substantial as a capstone. But it's a very promising debut indeed, and I'll certainly keep an eye out for what Andonova comes up with next.
---
Links
Posted on 18th September 2007
Under: Reviews, Milena Andonova, Bulgaria | No Comments »