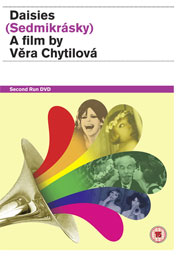 Sedmikrásky
1966, colour/black & white (assorted tints), 73 mins
Director: Věra Chytilová
Screenplay: Ester Krumbachová, Věra Chytilová
Original idea: Věra Chytilová, Pavel Juráček
Photography: Jaroslav Kučera
Art Design: Ester Krumbachová, Jaroslav Kučera
Set Design: Karel Lier
Costume Design: Ester Krumbachová
Music: Jiří Sust, Jiří Šlitr
Editing: Miroslav Hájek
Sound: Ladislav Hausdorf
Cast: Jitka Cerhová (Marie I), Ivana Karbanová (Marie II), Julius Albert (Old man with a beard), Jan Klusák (Man with butterfly collection), Marie Česková (Woman in toilet)
Production Company: Barrandov Film Studios)
I was planning to post a full-scale review of Second Run's new DVD of Věra Chytilová's Daisies/Sedmikrásky by today, but workload and a commission to write an extended piece on it for Sight & Sound conspired against me.
But what I'll certainly say is that this has a very fair claim to being Second Run's most wholly satisfying release to date. The transfer would appear to be from the same master as the the Czech and Spanish editions discussed here, but it's the only one from that source with English subtitles. Going from their comments, it looks as though this is closer to the Spanish edition, in that it doesn't appear to have the glitches that the Czech one sports as a by-product of overzealous digital post-processing, but I thought I'd post matching framegrabs so you can make up your own mind: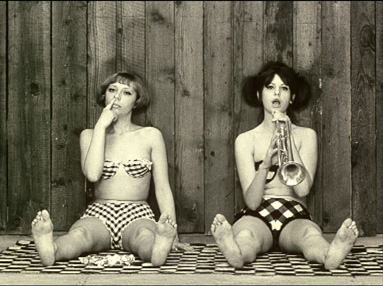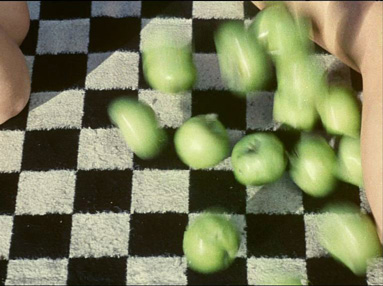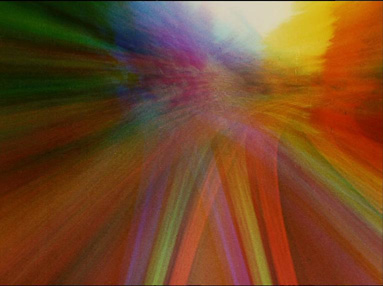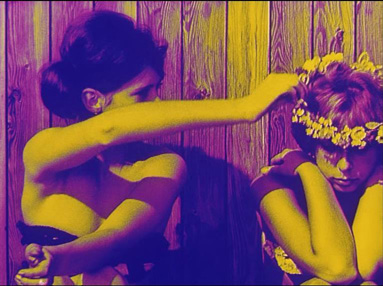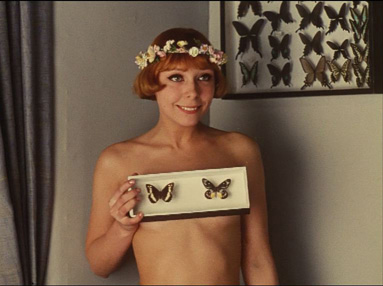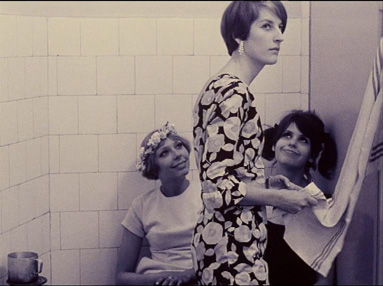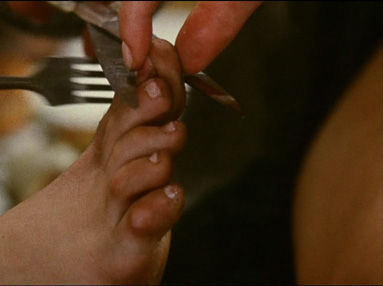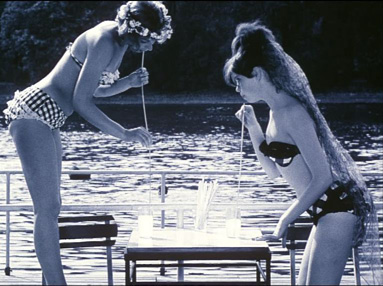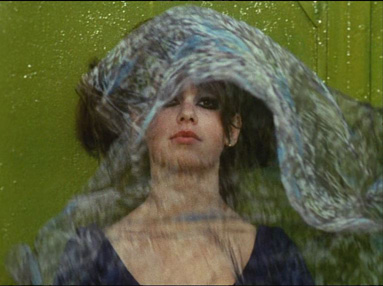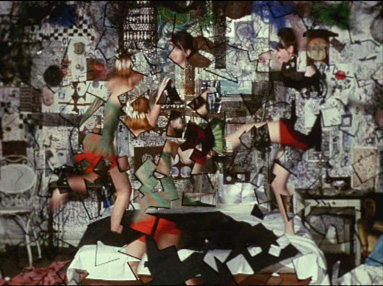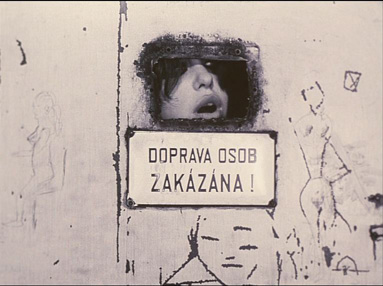 (I had to reduce the grabs by 50% to get them to fit the Filmjournal template, but you can find the full-size originals here.)
Certainly, it's one of Second Run's best transfers of a 1960s Czech film - right up there with Intimate Lighting/Intimní osvětlení and The Party and the Guests/O slavnosti a hostech - and miles ahead of the Facets Daisies, which I think is the only competing edition with English subtitles.
In common with most Second Run releases, there are just two extras (besides a new trailer cut for this release), but they're both impressively meaty and complement each other very well. I recommend reading Peter Hames' booklet essay first, as it provides useful biographical and contextual information about Chytilová's career, which will fill in gaps left by Jasmina Blaževič's Journey/Cesta, a 53-minute portrait of Chytilová that concentrates more on creating a witty, fragmented (very Chytilovan!) study of the woman herself than on providing much factual information. But it's an excellent extra that's far more ambitious than Second Run's usual straight-to-camera interviews.
Posted on 1st June 2009
Under: Reviews, Czechoslovakia, Czech Republic | 3 Comments »