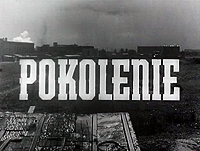 Pokolenie
Poland, 1955, black and white, 83 mins
Director: Andrzej Wajda
Producer: Ignacy Taub
Screenplay: Bohdan Czeszko, based on his novel
Photography: Jerzy Lipman
Editor: Cseslaw Raniszewski
Design: Roman Mann
Sound: Józef Koprowicz
Music: Andrzej Markowski
Cast: Tadeusz Łomnicki (Stach), Urszula Modrzyńska (Dorota), Tadeusz Janczar (Jasio Krone), Janusz Paluszkiewicz (Sekuła), Ryszard Kotas (Jacek), Roman Polański (Mundek), Ludwik Benoit (Grzesio), Zofia Czerwińska (Lola), Zbigniew Cybulski (Kostek), Tadeusz Fijewski (German guard), Zygmunt Hobot (Abram), Cezary Julski (coachman), Bronisław Kassowski (speculator), August Kowalczyk (priest), Jerzy Krasowski (Władek), Zenon Laurentowski, Stanisław Milski (Jasio's father), Juliusz Roland, Hanna Skarżanka (Stach's mother), Janusz Ściwiarski (manager), Kazimierz Wichniarz (Werkschutz), Zygmunt Zintel (foreman Ziarno)
---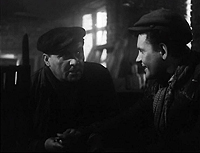 It's easy to overrate A Generation. Always one of the most straightforward of Andrzej Wajda's films to get hold of, thanks largely to its regular bundling with the far more accomplished Kanal (Kanał, 1957) and Ashes and Diamonds (Popiól i diament, 1958) as an artificial "war trilogy" (which could just as easily have commenced with Kanal and ended with his fourth feature Lotna, which also has a World War II setting), it's garnered a formidable reputation as the fount from which postwar Polish cinema sprang. While it was certainly a groundbreaking film, and its historical significance is impossible to ignore or deny, it's ultimately a lesser entry in Wajda's canon, a film of considerable promise rather than a fully achieved masterwork.
It's compromised partly by his inexperience (though its visual confidence in particular is most impressive), but mostly by the need to pay at least lip service to the still-pervasive, creativity-sapping doctrine of socialist realism. Greatly to Wajda's credit, he tempers this with a genuine lyricism that seems inspired by Italian neorealism, but he's still forced to include scenes where his protagonist Stach (Tadeusz Łomnicki) is given a crash course in basic Marxist economics by his older mentor Sekuła (Janusz Paluszkiewicz), the film's overall interpretation of history that cleaves to the Communist Party line rather than the factual record, and the closing shot of various youths staring into the middle distance as though contemplating a brighter socialist future was already the worst kind of Eastern European cliché. But Wajda was hardly unique in having to include such material: at the time he made A Generation, his older colleague Andrzej Munk was only just emerging from Stalinist-imposed aesthetics via such films as The Stars Must Burn (Gwiazdy muszą płonąć, 1954) and Men of the Blue Cross (Błękitny krzyż, 1955).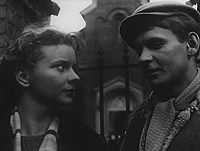 Adapted by Bohdan Czeszko from his own novel, A Generation begins as though it's going to develop into a light-hearted adventure, a teenage Boy's Own romp as our plucky heroes run rings around the flat-footed Nazis. This initial impression is quickly undermined when Stach and his friends Kostek and Zysio board a German train with the intention of stealing its coal (or giving it back to the Polish people: "we were patriotic thieves"), a prank that leaves Zysio shot dead by a guard, Kostek missing, and Stach hiding out in an abandoned brickworks. (A shot of Kostek running to catch a moving train is somewhat unnerving in retrospect - because he's played by Zbigniew Cybulski, who would die in real life in near-identical circumstances just over a decade later).
This incident triggers a series of life-changing events that will see Stach get a job as a carpenter's apprentice and become indoctrinated both as a Marxist and a resistance fighter with the Union of Fighting Youth, a communist group affiliated to the Red Army. Along the way he also discovers that despite near-universal opposition to the Nazis, there's widespread disagreement about how best to combat them - Stach's foreman Ziarno (Zygmunt Zintel) prefers the Home Army, loyal to the Polish government in exile. One of their colleagues observes that the younger generation seems to be "starting politics early", but this is as much a question of necessity as anything else: knowing whom one can trust is the key to one's survival.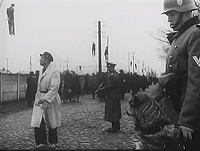 Though the film seems to be based around the growing closeness between Stach and Dorota (Urszula Modrzyńska), his resistance co-ordinator, in many ways the subplot revolving around Stach's colleague Jasio (Tadeusz Janczar) leaves a stronger impression. While Stach is happy to do whatever the war effort takes (and not just because of his clear attraction Dorota), Jasio is far more hesitant, claiming repeatedly that as a civilian he should be above such things. But after being taunted as a coward, he's the first to actually kill a German, although the fact that this assassination wasn't sanctioned by Dorota serves to alienate him further from their group - which also includes Jacek (Ryszard Kotas) and Mundek (Roman Polański).
But they're not the only people Jasio is alienating himself from - when a childhood friend (Zygmunt Hobot) approaches him asking for shelter, he refuses to help, the friend's name (Abram) betraying his racial origins to us and underscoring the peril Jasio will put himself in if he agrees to help - Wajda doesn't spell it out, because he doesn't need to. (This is the first of what will be a great many Wajda films that grasp the nettle of Polish-Jewish relations, a subject usually avoided by his fellow countrymen). Clearly rattled by this incident, and the guilt that dogs him thereafter, by the end of the film Jasio will become the most overtly heroic character, fighting off a group of Germans on a spiral staircase straight out of a Robert Siodmak film noir.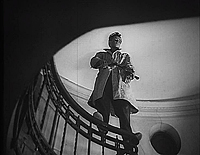 Wajda's early training as a painter is put to good use in a series of striking images and concepts, many motifs weaving themselves throughout the narrative. The glistening, swivelling eyes of the figure adorning the bar-owner Aunt Valerie's clock will later be echoed by Jasio's hunted expression as he contemplates his first killing. Similarly, a line of hanged men arranged as a warning to others is mimicked by the dangling fish-shaped sign overhead as Jasio runs for his life. Wajda's eye for distinctive faces is already much in evidence: just look at the scene in which Ziarno and his unnamed fellow agent confront a mob of hostile neighbours for a small masterclass in how to convey maximum information with minimal dialogue.
Cinematographer Jerzy Lipman is the film's largely unsung hero, his black and white images and high-contrast lighting combining with Wajda's careful blocking of his characters to make this one of the most visually distinctive Polish films of the mid-1950s. Wajda is also no slouch when it comes to the staging and pacing of action scenes that open the film and comprise much of its final act. The performances throughout are first-rate (Wajda would work again with Łomnicki, Janczar and of course Cybulski in subsequent films), though Polański's relatively low-key appearance has tended to be amplified out of all proportion to its actual importance, thanks to his subsequent fame behind the camera. Many years later, he would play the lead in Wajda's very different costume drama The Revenge (Zemsta, 2002), in part as a thank-you gesture for kick-starting his career.
---
DVD Distribution: Criterion (US), NTSC, no region. I haven't seen the Criterion DVD (it's only available in the expensive Andrzej Wajda: Three War Films box, which I couldn't justify buying as I already have Polish DVDs of Kanał and Ashes and Diamonds and a perfectly decent off-air recording of A Generation), but it appears to be the only commercial DVD release anywhere in the world - surprisingly, given that most of Wajda's other major films are released in his native country, it's not out in Poland. A UK release from Arrow Films (presumably Region 2 PAL) is due at the end of May 2008.
The Criterion box has been reviewed by Digitally Obsessed (Matt Peterson), DVD Beaver (Gary W. Tooze), DVD File (Mike Restaino), DVD Savant (Glenn Erickson), DVD Talk, DVD Verdict (both by Bill Gibron)
---
Links