1969, colour, 99 mins
Director: František Vláčil
Producer: Věra Kadlecová
Screenplay: Vladimír Körner, František Vláčil, based on the novel by Vladimír Körner
Photography: František Uldrich
Editor: Miroslav Hájek
Design: Jindřich Goetz
Sound: František Fabián
Music: J.S.Bach, Johann Strauss, arranged by Zdeněk Liška
Cast: Petr Čepek (Viktor Chotovický); Emma Černá (Adelheid Heidenmannová); Jan Vostrčil (Hejna); Pavel Landovský (Jindra); Jana Krupičková (girl); Lubomír Tlalka (Karlík); Alžběta Frejková (Old German woman); Miloš Willig (staff captain); Karel Hábl (lieutenant); Zdeněk Mátl (young Heidenmann); Vlasta Petříková (woman); Josef Němeček (Slovak); Bohumil Vávra (priest)
---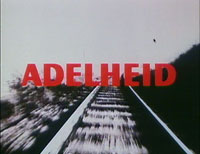 Although František Vláčil's directing career continued to 1987, Adelheid (1969) was the last of his films to get much exposure outside his native country. It also marked the end of his most creatively fertile period: in the years following the Soviet invasion of Czechoslovakia, the Communist authorities prevented him from making features until 1976.
Adelheid differs quite sharply from its predecessors. Firstly, it's in colour, and eschews widescreen in favour of the Academy framing of his first films. Secondly, after three films set in the very distant past (The Devil's Trap/Ďáblova past, 1961; Marketa Lazarová, 1967; The Valley of the Bees/Údolí včel, also 1967), he adapted material set during his lifetime, in the immediate aftermath of World War II. The largely German-speaking part of northern Moravia, formerly known as the Sudetenland, had been notoriously annexed by Hitler's Germany in 1938, after which its Czech and Jewish inhabitants were persecuted. Not surprisingly, after the Allied victory of 1945, the tables were turned, and it was the Sudeten Germans who found themselves the victims. Since they were informally considered guilty of collusion with the former oppressors of Czechoslovakia unless they had an evidence-backed track record of anti-Nazi activity, reprisals were fierce and frequent.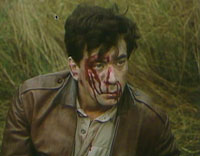 A brief summary of Vláčil's film, adapted from a novel by Vladimír Körner, his screenwriter on The Valley of the Bees, could make it sound like a straightforward, almost clichéd wrong-side-of-the-tracks romance between a Czech man and a German woman. Typically, though, he approaches this material far more obliquely. Though Czech-born and possessing the rank of lieutenant, Viktor Chotovický (Petr Čepek, also the lead in The Valley of the Bees) spent much of the war in Aberdeen, working in an RAF desk job. Adelheid Heidenmann (Emma Černá) is initially assumed to be an innocent victim of anti-German prejudice, but it transpires that she's the daughter of one of the most notorious of the local Nazis, whose trial and inevitable execution occurs in the background to the main narrative (so much so that it's only referred to in passing). And even if one accepts that the sins of the father shouldn't be visited upon his offspring, Adelheid has a dark and ultimately murderous secret of her own - which, again, is riddled with moral ambiguity.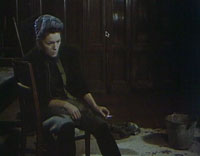 After a series of misunderstandings concerning his arrival that neatly sketch the dominant atmosphere of uncertainty and paranoia, Viktor makes himself known to Inspector Hejna (the avuncular Jan Vostrčil, familiar from several early Miloš Forman films), and is charged with the task of looking after Heidenmann's large country house and draw up an inventory of its contents. It's a job that suits him perfectly, as he doesn't have to talk to too many people: it's clear from the opening scenes that he's badly out of sync with the prevailing mood, and welcomes the opportunity to ignore it altogether - at least as far as is possible.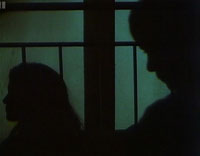 The 'courtship' (if that's not too strong a word) between Viktor and Adelheid, now working in the house as a servant, is initially marked by sidelong glances, hesitant signals and the occasional bout of flagrant voyeurism (when Viktor finds a pair of binoculars, he uses it to spy on Adelheid adjusting her clothes outside). Gesture is all they have when alone together, as they don't speak each other's language - Viktor doesn't even find out her name until near the halfway mark, and has to piece together impressions of her past life through assorted clues in the form of old photographs and letters. When they finally talk directly to each other, near the very end of the film, any potential for intimacy is dashed both by the situation (an interrogation following a double murder) and the obtrusive presence of an interpreter.
As Viktor reluctantly discovers, it's impossible to exist in a vacuum, especially at a time of national turbulence. Whatever his private feelings for Adelheid, it's politically and socially impossible to express them in public, despite the film being set in a supposedly liberated country. Vláčil had already got into trouble with the authorities over The Valley of the Bees, and Adelheid was similarly suspect in that it raised awkward and troubling questions about a time that the Czechs would rather forget, as it shows them in a less than heroic light at a time when they were supposed to be the glorious (and, by implication, magnanimous) victors.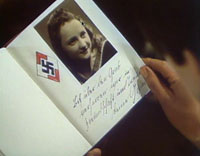 Perhaps appropriately for such a quiet, slow-burning piece, Adelheid is much less visually flamboyant than Vláčil's other 1960s films. There are recurring motifs of a train (the camera adopting its viewpoint) entering and leaving a tunnel, and a painting of a nude woman mysteriously riddled with bullet holes (one of which has virtually obliterated her face), but these are exceptions. The soundtrack is similarly spartan by comparison with its ornate predecessors: Zdeněk Liška is again involved with the music, but only in terms of adapting existing pieces by J.S. Bach and Johann Strauss, perhaps as an abiding reminder that German-speaking culture will always have something worth preserving.
---
DVD Distribution: Facets (US), NTSC, no region code.
Picture: About halfway between The White Dove and The Valley of the Bees in quality terms, this is sourced from the Czech National Archive print, which is in reasonable physical condition (there are plenty of spots and scratches and the occasional jump-cut splice, but no really serious damage), but the colour fidelity varies, sometimes within the same shot. There's also a slight texturing to the image, as though it was projected onto canvas, which leads to more obtrusive digital artefacting in the darker interior scenes. It's all perfectly watchable, though, and superior to many of Facets' Czech New Wave titles.
Sound: Although faint hiss and crackle are audible throughout, the original mono is otherwise perfectly listenable. The music comes across well.
Subtitles: As with Facets' other František Vláčil DVDs, these are yellow, burned into the image, and slightly out of sync, typically appearing a second or two later than required. This was bearable with the earlier films, but Adelheid has more two-way conversational scenes, and the way that each line is accompanied by the previous subtitle rapidly becomes irritating. More trivially, the punctuation is somewhat eccentric (questions terminate with a full stop), and the surname that's clearly enunciated as 'Heidenmann' is rendered 'Heimann' or 'Heinemann' for no apparent reason other than sloppy proofing, and I laughed out loud when the balding, overweight, distinctly unfeminine Inspector Hejna asked if anyone minded if he removed his blouse.
Extras: There are no extras on the DVD, but the sixteen-page booklet contains the same thorough Vláčil biography/filmography by Susan Doll that accompanies the other Facets discs, together with a useful essay on Adelheid by Alissa Simon that provides some valuable historical contextualisation.
---
Links
Posted on 30th November 2007
Under: Reviews, Czechoslovakia, František Vláčil | No Comments »