Posted by gproject in : Cinema, Recently Viewed , 1 comment so far
Directed by: Anne Fletcher
At any given time during the year you can always locate at least one romantic comedy filling the cinematic schedules.  As the evergreens of the movie world, this is a genre that now finds itself inherently overdone, and consistently underachieving.  Director Anne Fletcher knows this well, her last film 27 Dresses (basic premise: "always the bridesmaid, never the bride") passed quickly by before taking its place as yet another forgettable entry in the rom-com landfill.  And while The Proposal probably won't be saved this same fate, it at least deserves recognition for getting down on one knee, and doing things right.
The story goes as follows: high-powered publishing exec Margaret Tate is about to be deported back to Canada after inadequately fulfilling her visa requirements.  Since this will lead to the termination of her employment and, essentially, her entire life, she hatches a not-so-clever plan: a fake marriage to her downtrodden assistant, Andrew.  Despite the fact the he hates her guts, Andrew is convinced to go along with the scheme only if he can fulfil his career dream of becoming a book editor.  With assurances made, the two only have to convince a sceptical immigration officer, which means taking a weekend-long trip to Andrew's home town.  In Alaska.  Cue hilarious japes as city-girl Margaret finds herself a fish-out-of-water, while discovering that the false romance she has dispassionately entered into may not run entirely to plan.
The first, and maybe most surprising point of note is that the movie is riddled with funny moments – not always huge ones mind you, but enough sly smiles and glib one-liners to see it through its 108 minutes.  First-time screenwriter Pete Chiarelli deserves some credit for giving his by-the-numbers premise some genuinely nice character moments, and as schmaltzy as they may be, they're a million miles away from the tear-your-eyes-out inanity of most in the genre.  Plus, like many of its type, the film works best when it isn't trying so hard, and the big comic set-pieces (including a ridiculous excuse for Bullock to get her groove on in a scene that is way out of character) fall flat compared to the smaller quips, mostly delivered by Ryan Reynolds.
And it is Reynolds who steals the show, proving once again that he is an incredibly talented comic actor with enough presence to overcome whatever material he is working with.  His last stab at the Hollywood rom-com, Just Friends, was an even more vacuous affair, and yet he came away from that one fairly clean too.  Here, the script plays to his strengths, with plenty of the comic sniping and jabbing sarcasm that broke him into the Hollywood A-list in Van Wilder.  It's certainly true that by the time the story reaches the pivotal and inevitable scene in front of the company executives where Andrew discovers he is expected to marry his boss, he already has the film all wrapped up.  He delivers the scene – a potentially tedious comic nightmare on paper – with dumbfounded perfection.
Sandra Bullock is mostly good too, although a certain amount of the work is done for her by wardrobe and make-up – a very important facet in the 'uptight businesswoman' role.  In extremely trite circumstances, her character of Margaret is the typical office powerhouse: she's too busy for men, too busy for a social life, and too busy to care.  Then, like all romantic leads, she must melt down the ice queen persona until a regular, lovable woman is left standing in a pool of water.  Notice, as with all female characters who make this transition, she does so shoes first; awkward stilettos become appropriate flats, then the hair comes down from it tightly bound prison, and slowly the face – thus far a creation of cheek bones and chin – is allowed to soften.  At least the chemistry between the two leads is good, although it is most believable at the beginning when the exchanges are frosty.
Where the film goes unnecessarily off-track is with all the boring 'city girl in a rural town' material, which has been done to death and is consequentially  impossible to do with any originality, something that this film only serves to confirm.  Then there's poor Malin Akerman, knocked to second position again, just like she was in The Heartbreak Kid and, to a lesser extent, The Brothers Solomon.  This time her third wheel status is in question,
as she is barely given time to attach herself to the bicycle, although any resonance her character is supposed to convey gets lost in the story anyway.  The best character moments are all on Andrew's side, including a neatly designed reason for him having worked so hard at his terrible job that doesn't just rely on personal ambition.
The Proposal whipped up a storm during its US theatrical run, breaking $100 million and holding a number one position at the box office.  There's little flash or glamour to the project, but what audiences did get was just under two hours of light entertainment, delivered by likeable actors, framed by a clear premise.  A work of genius?  Hardly.  But removed of the incredible frustration brought on by most of its contemporaries, very watchable.  You can rest assured that the ending is characteristically awful and almost completely unbelievable, but I guess we must overlook some concessions to genre on this occasion.  If you can't, then you'll probably come away wondering what all the fuss was about.  But for rom-com sympathisers, you could do much worse than The Proposal; a film that actually works in all the moments where it isn't trying to, and even a few of the ones where it is.
The Proposal is currently on UK general release.
Posted by gproject in : Recently Viewed , add a comment
Directed by: James Marsh
Described as "one of the greatest heist films of all time", and sporting the tagline "The artistic crime of the century", there's more evidence for Man on Wire to be found in the Thriller section of your local DVD store, than the relatively subdued Documentary section.  The truth is, it's a bit of both - talking heads style storytelling feeds into a detailed account of how a small group of dedicated artists managed to pull off a scheme worthy of Danny Ocean and his crew.  Just don't look down.
The main focus of the documentary deals with telling the madcap story behind Frenchman Phillipe Petit and his attempt to walk a across wire stretched between the World Trade Centre towers.  Most impressively of all, he achieved this feat illegally, and without permission.  This is the real meat of the tale: the long and arduous planning process that saw Phillipe and company assuming different identities, dressing in disguises, surveying their location, and formulating a plan of attack.  All in the name of art.
Between the play-by-play of that August night in 1974, we learn about Phillipe's past, his previous wire-walking ventures and his boyhood dream of occupying the space between the as-yet-unfinished towers.  He describes it as a fairytale, but the film is wise enough to follow its own vision, rather than become wrapped up in Phillipe's.  As such, we see both sides of the spectacle - all that he gained as a performer and an artist, and all that he lost once it was over.  It's a nicely balanced take on the realities of the story, and one which suggests that the events presented are not being rose-tinted for the sake of spectacle.
The star of the show is Phillipe himself; a natural performer, he recounts his longing and the personal journey he went on to reach his goal.  There is an enthusiasm and emotion in his interviews that point to his days of expressive street performing.  Not wanting to inhibit this theatricality, British director James Marsh has wisely chosen to shoot some of his interviews in a free-form style, letting Petit use the space available as he pleases.  The result brings some neat visual moments, such as Phillipe appearing from between curtains as he explains hiding from building security.
Beyond the interviews we find dramatic recreations, using actors to portray the main players.  These bring the story to life a little, and help fill in the gaps where no footage is available.  They are, of course, a lot more film-like than anything else in the documentary, which makes the real-life home-video of Phillipe and friends planning their Sydney Harbour Bridge stunt even more intriguing.  It is odd that they chose to document everything about this preliminary walk in much more detail than the one in New York, but it adds greatly to the explanation of how much practice and planning goes into taking on a feat such as this.
In fact, the film's greatest shame is that there is no video of Phillipe on the World Trade Centre walk.  Still-photos take the place of footage, and do an admirable job of conveying the danger and beauty of the act.  Plus, there's little denying how much it affected the people who witnessed the event, as each of his friends talk passionately about watching their impossible task come to life.  It's the one moment where Petit's poetic nature spreads to everyone in the film - inspiring a raft of emotional accounts.  This is highlighted at its pinnacle by one of the final interviews, in which a policeman tasked with bringing Petit down off the wire describes his awe at what he was witnessing.  The disparity between his appreciation and his job does not go unnoticed.
Man on Wire is still a documentary in the traditional sense of the word, but it also manages to convey a fascinating story, as well as acting like an abridged Phillipe Petit biography film.  Most impressive of all, though, is the way James Marsh's feature successfully weaves such high tension and drama into a relatively simple story about one man's dream project.  Just like the great heist movies of our time, this film has you constantly questioning how the gang will complete such a seemingly insurmountable act, while at the same time letting its audience ponder the questions posed about human nature, especially Petit's unique outlook on life and art.  It's a delicate balancing act, but one that is executed perfectly.
Posted by gproject in : Recently Viewed , 1 comment so far
Directed by: Peter Berg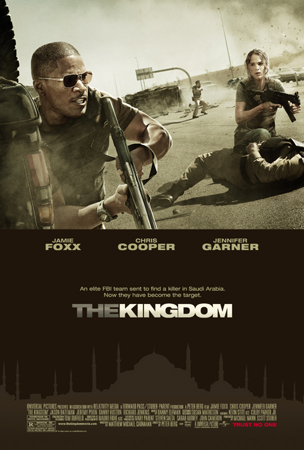 In an era that holds terrorism as an evil above all others, it is no surprise to see movies tackling the subjects of war, politics and terrorist investigation, usually in the hope of proving just how much of a mess we're in.  Films that put you right on the ground such as Syriana or Rendition [review], have been countered by more talkie 'discussion points' pieces like Lions for Lambs [review].  What all these movies have in common is an air of self-important reverence, irrespective of whether they actually earn it.  This isn't that case with The Kingdom, however, a mainstream action thriller that serves its state of the nation address with enough conflict to balance the conversation.
Taking place in Riyadh, Saudi Arabia, the film opens with a terrorist attack on a western compound, killing innocent families as well as an FBI agent stationed there.  Back in the US, Special Agent Ronald Fleury assembles his team and blackmails an Arabian delegate to get them five days in Riyadh.  With forensic examiner Janet Mayes, bomb technician Grant Sykes, and intelligence analyst Adam Leavitt in toe, Fleury sets about investigating the crime on the ground.  But hindered by Saudi military rulings, and jerked around by local soldiers, it soon looks as though the five days might not be enough.  Only with the help of a sympathetic local colonel, do the team start to discover that The Kingdom may hold more danger for them than they expected.
First glance at the marketing would probably have you believe The Kingdom is another overblown action blockbuster, posing as a politically aware discussion piece.  In fact, it is rather more the other way around, even if the plot does take a left turn into budget-draining action during the final twenty minutes.  Before that, however, we follow the team through all aspects of their challenging inspection.  From their struggle against red tape at home, to the difficulties of dealing with restrictive access rules in Saudi Arabia, the story has its roots bedded in CSI more than Armageddon.  Luckily, there's always enough happening to stop the film getting lost in its own plot machinations.
This leads to some intriguing story points, especially regarding the attitude of Saudi authorities to the presence of American agents.  Conversely, it also means that some inevitable conveniences find their way into the plot, as the small team of four manage to put together the entire crime in a matter of days, leaving little room for ambiguity in their hypothesis.  It's true that the film works hard to accurately reflect the process of investigation, but why it then lets some aspects - such as the impracticality of bringing a woman to such a notoriously conservative country - pass without comment, is anyone's guess.
Once the pulse-pounding sequences kick in the pace takes a sudden change, and as much as this could be considered a cheap move to add some spectacle to the proceedings, the film actually works rather hard to earn this last twenty minutes of frivolity.  The action is quite good too - intense and with acknowledgement of the constant surrounding threat, rather like the best sequences from Children of Men [review].  Director Peter Berg has been criticised for his use of the infamous 'shaky camera' effect in this film, but it isn't overly noticeable if you're familiar with movies like the Bourne Trilogy [review].  For the most part, Berg directs effectively and with a loose style that adds a nice sense of realism to each scene.
Meanwhile, writer Matthew Michael Carnahan has produced a script that is surprisingly aware of the history surrounding its situation.  A credit sequence including a bullet-points summary of oil distribution and warfare in Saudi Arabia is particularly impressive, and a solid opening act for what turns out to be a politically conscious piece of action drama.  The film benefits from a reasonable cast too, with Jamie Foxx pulling from his Jarhead experience, while Jason Bateman steps into a whole new genre but holds on to his wisecracking demeanour.  Chris Cooper and Jennifer Garner make up the rest of the team, but maybe more impressive is Ashraf Barhom who plays the Saudi FBI aide, Colonel Faris Al Ghazi, with great compassion.
The Kingdom manages to introduce some reasonable points of debate into the traditionally vapid action genre, with enough consistent pace to keep audiences engaged.  It is far from all-encompassing, but it at least attempts to show both sides, even if you never really feel too far from the American viewpoint.  One final moment of ideological comparison may not quite land with some, but even the sentiment is more than most manage to accomplish.  While not perfect, it has provided a path for director Peter Berg to go on and make Hancock [review], while writer Matthew Michael Carnahan took the knowledge gained here and scripted the more interesting conversational drama, Lions for Lambs [review].  While it lasts, The Kingdom is well-engineered edu-tainment, and that's something you won't forget even when the bullets start flying.
Posted by gproject in : Cinema, Recently Viewed , add a comment
Directed by: Larry Charles
The third in a line of Sacha Baron Cohen characters sparked from his hit TV series "Da Ali G Show" makes its way onto the big screen with a hefty weight of expectation attached.  Fans are looking to Brüno for the most outrageous cinema-going experience of the summer, providing both more shocks and more laughs than any of the rigorously controlled mainstream Hollywood releases.  The movie in its completed form certainly fulfils the shock quota, but the fact that its laughs lean all too often on this same explicit content makes for a telling lesson in the nature of character comedy.
After a rather miserable attempt to bring Ali G to cinemas using traditional narrative methods, Cohen finally stumbled upon the right formula with 2006's Borat, a faux-documentary style outline that left plenty of room for doing what he does best: making fools out of those around him.  Brüno follows this lead, taking the uber-gay Austrian fashion presenter out of his native homeland and off to find fame in America.  Not a specific type of fame mind you, anything will do.  And so Brüno travels across the strictly conservative states spreading his camp expressions and flamboyant wardrobe everywhere he goes.  Along the way he tries his hand at pop singing, TV presenting, acting, adoption, becoming a victim of kidnapping and even, heaven forbid, turning straight, as quick roads to fame.  The only talent he really seems to harbour, however, is making American people appear uncomfortable and therefore exposing their own prejudices.  Or so is the idea.
Before we get too far into the substance of the movie, it's worth pointing out that there are few surprises in the story that loosely binds this collection of interviews and real-world sketches together, baring an obvious resemblance to Borat [review] in its order of events.  The story may not be the reason audiences will flock to Brüno of course, but with four credited story writers (Sacha Baron Cohen himself alongside Peter Baynham, Anthony Hines and Dan Mazer), it's a shame they couldn't diverge even slightly from their last cinematic attempt.  The film also feels less resolute about its intentions; Brüno's quest says little about obsessive celebrity culture or the people within that world.  This lack of drive leads the film to a rather bumpy close, a star-laden studio session proving the awkward denouement.
Noticeably, its most graphic sequences - including a look into the life of Brüno and his current partner near the beginning of the film - are all staged or performed by the cast and deal exclusively in sexual acts, nudity, and homosexual perversions.  This leads to the film's biggest stumbling block: the fact that Brüno is much more one-note than Borat, his sex-obsessed personality lending to a film that is similarly defined, not always by how funny it is, but simply how outrageous.  Discovering that it is far more daring than even the most lurid Borat scenes should comes as no surprise, if only these boundaries could have been pushed without constantly resorting to the same handful of gay jokes.  While this material works effectively in short TV sketches, it doesn't completely sustain even 81 short minutes of cinemagoing.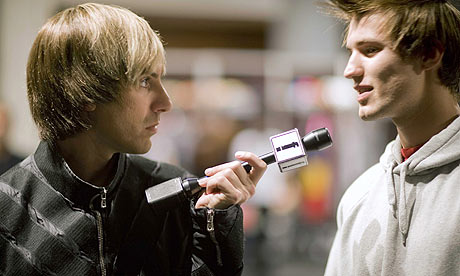 Luckily, the movie still has its ace card in Sacha Baron Cohen, who ensures that the film is uproariously funny at times.  His quick-fire comic mind allows Brüno to improvise well around whatever situation he lands himself in, and to always draw humour out of his poor subjects.  Just as in Borat, the film takes a refreshingly honest approach and allows us to laugh directly at the interviewees, never with them.   While in the past this harshness has been justified as a comment on (mainly American) prejudices and hypocrisies, in Brüno it rarely reaches a level so high minded.  A notably nasty streak shows its face on occasion, the result of a film without a solid target in mind instead setting out to simply offend anyone in its path.
It therefore becomes more enjoyable to marvel at the people who walk into the trap, rather than those who are forced.  One sequence finds Brüno interviewing parents for consent to use their children in his upcoming photoshoot.  As probably the most revealing and horrifying of the non-sexual scenes, it provides a fine example of Cohen's character simply opening the gallows and then watching people hang themselves.  Director Larry Charles does little to fancify proceedings,
but always knows when to hold for those much-needed reaction shots.  Following Borat and the Bill Maher film Religulous, it seems that Charles has found his niche helming these off-the-shoulder comic documentaries.  However, here more than in previous attempts, it's interesting to assess how often he's playing a trick on the audience.  Between the obviously staged and obviously real segments lies a copious middle ground that probably contains a clever mix of both.
There's no doubt that Brüno will prove to be a huge success given that it follows the Borat formula so rigorously, while upping the stakes with its no-holds-barred graphic content.  Audiences will find plenty of laughs for their ticket price, but those laughs do come at a higher moral cost.  Plus, the comedy never quite matches up to the intensity of Borat, whose mix of innocence and idiocy made him at least slightly compassionate in comparison to the headstrong brashness of Brüno.  At its best moments the film is laugh out loud ridiculous; at worst, a single note sex comedy with a devious side.  And it bridges these two extremes with moments that will divide audiences over the representation of gay lifestyles for months to come.  It all goes to show that in successful character comedy, you need to love the character just as much as you enjoy the humour.  In Borat this was a simple task; for Brüno, on the other hand, both person and movie are significantly harder to adore.
Brüno is in cinemas worldwide from tomorrow.
Posted by gproject in : Cinema, Recently Viewed , add a comment
Directed by: Christine Jeffs
This latest independently-spirited comic drama comes directly "from the producers of Little Miss Sunshine" [review], and bares more than a passing resemblance to the Oscar winning jewel in this particular genre's crown.  Not least the title, which may at first glance may seem like subliminal messaging gone awry, but which is probably no more than coincidence given the nature of the story.  You see, it is not in its similarities where Sunshine Cleaning really, well, shines.  Instead, the differences, including a substantial shift in tone, help brush the cobwebs out of an old idea.
The low-key tale takes place, like so many do, around a family dynamic.  Meet the Lorkowski's: indie film's newest screwed-up siblings, with problems just begging to be solved and life lessons waiting to be learned.  Rose is a single mother and former high school head cheerleader, stuck working as a maid to support her son Oscar, while maintaining a long-term affair with ex-captain of the football team Mac, who is now married to someone else.  In need of money after Oscar is expelled from his public school, Mac - also a local policeman - suggests crime-scene clean-up as a well paid racket if she could get into it.  After recruiting no-hoper sister Norah, the two set about making the best of this odd venture, discovering that by entering other peoples' lives at such a distressing time of need, they find new purpose in their own existence and an increased drive to succeed.
As a comedy drama, the film opens itself up not only to accessible marketing, but also simple-minded pigeon-holing.  In actual fact, it holds focus on the dramatic elements much more consistently than most of its contemporaries, which sets the normal buoyancy of mood a couple of notches below where one might have been expecting.  First-time screenwriter Megan Holley holds things together, however, through her neatly defined characterisation.  Dysfunctionally drawn, each character has their own set of misfortunes and problems - Rose is needy: unable to release herself from an unwise relationship and ashamed of her job as a maid.  Her sister Norah is directionless, the blacker of the two sheep.  Their father Joe is a schemer, and although he means well, his pie-in-the-sky ventures usually leave him unable to fulfil his promises.  While young Oscar is too smart, or maybe just too much a product of his family, for any local school.
While they may not sound like the most original of creations, the family relationship feels very genuine, mainly due to the sisterly bond brought to screen by stars Amy Adams and Emily Blunt.  The scenes they share blossom as each comes to terms with the gaps in their own lives; finding purpose in this most odd of professions is the
last thing you expect, and yet it never feels forced.  Holley's story too, is one of interesting premise, delivered at a relaxed pace but never with its foot off the gas long enough for you to get bored.  At 91 minutes, the film is a neat and tidy package.  So it's a huge shame when the story peters out of steam just as the conclusion arrives.  It's as if, drained of pertinent plot or character points, the film simply up and leaves; the narrative equivalent of a cut and run.  Plus, the long-standing movie issue where a character takes a purposefully undefined "road trip" as a finale to their arc feels, as ever, less than satisfactory.
Director Christine Jeffs is one of the few female directors in a hugely under-represented Hollywood group, currently languishing with only a few big players (Sofia Coppola and Kimberly Peirce spring to mind).  Jeffs holds the reigns here well, quickly realising that while the film has its laughs, they are few and far between the scenes of quiet melancholy.  The film also has a streak of sentimentality to it which could have destroyed a lesser movie, but which here is weaved neatly into the flow.  One sub-plot involving the sisters' strange infatuation with TV-movie diner scenes shows this balance at work, and is a particularly nice touch to the story. 
Then there is always the possibility that these deeply unsatisfied characters will appear dislikeable as their least favourable traits seem to surface upfront.  But a touching moment between Rose and an elderly client proves to be the film's redemption, appearing just at the right time.
Both pleasant and well written, Sunshine Cleaning has a substantial audience if the market for similar films is anything to go by.  Surrounded by the spate of current summer blockbusters, even as counter-programming it may not achieve its full potential, but should more than make up for it on home video.  And despite the abrupt ending and some rather mixed moments for the secondary characters (Norah's relationship with Lynn only hints at something deeper before dissipating, while it's never really clear whether Oscar's problem is meant to be flippant or a serious issue), the film still has plenty to offer.  Casting aside the family narrative, the appearance of Alan Arkin in an offbeat fatherly capacity, and the mantle of quirky independent summer feature, this is a movie that thankfully isn't trying to be 'Little Miss Sunshine Cleaning', and comes out all the brighter for it.
Sunshine Cleaning is currently on UK general release.