Welcome
Strange Conversation is Daniel Stephens' corner of the internet to document his many adventures in cinema. Every now and again they'll be a pseudo online-magazine archiving the latest posts. To see the latest stuff right now - including essays, film reviews, film-related discussions - CLICK HERE. Otherwise please have a look at the TOP 10's, a selection of film-related essays, or the archived reviews.
Strange Conversation featured in The Film Professional's Guide to the Blogosphere
Please visit my new website: Top10films.co.uk which will eventually feature hundreds of Top 10 film lists covering hundreds of topics. It is currently in development but new stuff is being added everyday.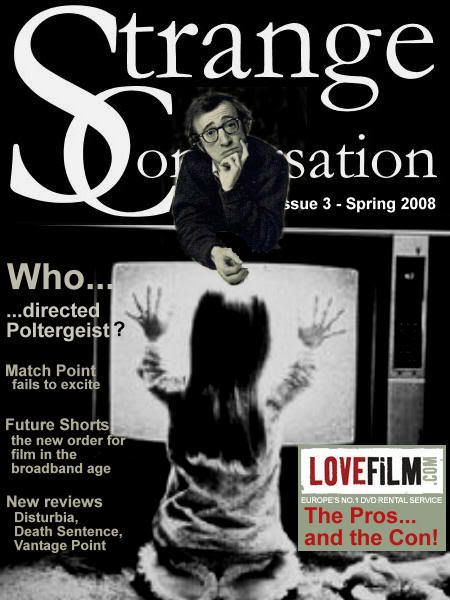 Table of Contents: Issue 2, June 2007 (Click on title to read article)
1. TOP 10 Horror films of the 1980s
2. Short Film In The UK - 8-Part Feature
3. Not Just Another Dead Soldier: Subjectivity in Spielberg's Saving Private Ryan
4. Classic 80s: Into the psyche of a broken man…revisiting John Landis' Into The Night
5. Hammer Horror & British Cinema - 1930 to 1970
8. Film Review: A Cock And Bull Story
10. Film Review: Happy Endings
Strange Conversation's SCENE OF THE MONTH
An American Werewolf In London (John Landis, 1981, USA)

In John Landis' delightful comedy-horror, David Kessler's very dead best friend returns from the grave to tell him at the next full moon he'll turn into one hell of a hungry werewolf.
Strange Conversation's SHOT OF THE MONTH
Say Anything (Cameron Crowe, 1989, USA)

The iconic image of Lloyd Dobler trying to win his girlfriend back by playing 'their' song on his Ghetto Blaster.
The Best Movie Blogs:
NY Press Film critic Matt Zoller Seitz, Dave Kehr - NY Times, Lisa Rosman, Couch Pundit - Steve Monaco