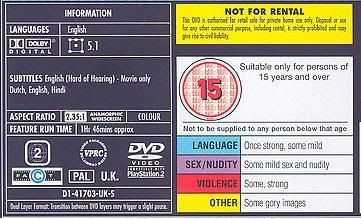 Am I the only one who finds how the running times on DVDs and cinemas are written annoying? Why is it written in minutes rather than hours? For example, the Aussie western "The Proposition" on DVD has a running time of 100 minutes. The question is: how long is that in hours and minutes? As it happens (and pointed out on the DVD Times website) that is 1 Hour and 40 Minutes. So the question is: why not simply state that right at the start? Why try to be fancy and write it in minutes? Is it because 100 minutes "looks" better written than 1 Hour & 40 minutes? This is also the case with films showing in the cinema. Miami Vice has a running time of 133 minutes. Superman Returns runs at 154 minutes.
Who wants to sit there working out how long 133 and 154 minutes are?
Someone ought to remind these people of the KISS principle: Keep it Simple and Straightforward.