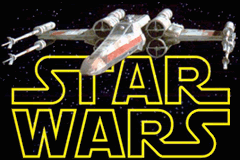 Star Wars is in desperate need of a re-make. I have not seen the original series for a number of years, but my memory of them is that of a bland trilogy of films that were groundbreaking in their time, but now just look very dated and somewhat cheap. George Lucus had the right idea in polishing up the series with added special effects. But this was only tinkering on the edge. A more radical approach is necessary to bring it up-to-date.
What better way then a re-make?
We keep the same story, but update it with better special effects. A re-make would also allow for a far superior set of actors to be caste for the films. Looking at the three movies (with the exception of Mark Hamill, Harrison Ford, James Earl Jones and Ian McDiarmid-who were all perfectly caste) no one else really stands out. Alec Guinness is totally over-rated in the film. Lets be honest: the man may be a screen legend but his role could have been played by anyone. For the re-make I would recommend someone like Daniel Craig. I am not sure what character he would be caste as, but he would be a superb catch. Contender for one of the best Bonds, Craig could be developed as a villain. Clearly, the chief bad guy would remain Vader, but bearing in mind that he has an uncanny resemblance to Darth Maul (think about it) Craig could play a Sith Lord? Another actor I would champion is Andy Garcia. Again, not too sure who he would play. Clearly too old to play Luke Skywalker, but he would be a very good addition. Either way, Garcia and Craig would be two actors to start with.
Now I appreciate that the most recent series of films did not go down too well with many people. But this was more due to some very poor script and casting. Liam Neeson just could not pull off his role. Neither could Ewan McGregor or Hayden Christensen. And don't even get me started on Jake Lloyd.
Along with a good caste, a re-make would also help solve one of the laughable aspects of the Star Wars films i.e. how life and technology in the prequels seems to be more advanced than life in Episode IV, V & VI!
The thought of a possible re-make will obviously have traditionalists up in arms. But like many neutral observers the world over, I am positively sick to death of these whinging people. They have to rank as the most annoying fans the film world has ever witnessed: never satisfied and constantly upset over something.
Overall, a re-make really ought to be given serious consideration. It would win over many new fans, bridge the technology gap and hopefully correct the mistakes made with the casting in the original and modern versions, thus finally bringing down the curtains on one of cinema's greatest plays.


Craig: a Sith Lord?