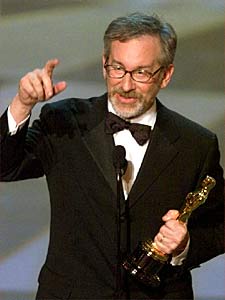 Steven Spielberg (lindur ne 1946 - regjizor ne aktivitet) - USA-
Nje nder regjizoret më emblematike aktuale amerikane me 22 filma ne gati 30 vjet karriere.
Filmi qe fillon ta beje te njohur per publikun eshte "Jaws" ne 1975. Duke filluar nga fundi i vitetve '70, Spielberg vendos raporte te ngushta me filmat fantastike: "Close encounters of the third kind" (1977), "E.T. The Extra-Terrestrial" (1982), "A.I. Artificial Intelligence" (2001), "Minority report" (2002), "War of the worlds" (2004).
Nje tjeter shije qe kultivon ne filmat e tij, eshte ajo per aventurat siç eshte Saga e famshme " Indiana Jones" dhe "Jurassic Park" (1993). Pa harruar temat historike qe i trajton ne dy nga filmat e tij me te njohur: temën e holokaustit ne "Schindler's List" (1994) dhe ate te Luftes se Dyte Boterore ne " Saving Private Ryan" (1998).
Perveç se regjizor, Spielberg eshte dhe producent. Ne 1994, ai krijon studon "DreamWorks", nga me te njohurat ne USA.